Find the right window drive with GEZE
Depending on the installation location, modern construction methods may require automated windows. Often, the window elements needed in these applications are simply too large and heavy to operate manually. In daily operation - integrated into the building automation system - they provide natural ventilation and ensure the indoor climate is fresh and comfortable. In case of fire, the window drives manage air intake and outflow for natural smoke and heat extraction.
Automatic window drives for many different applications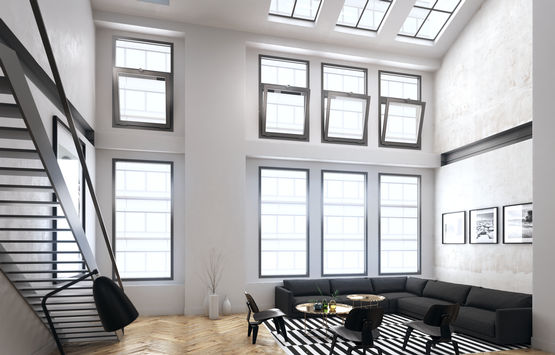 Good air, thanks to good ventilation with the GEZE ECchain © Exorbitart / GEZE GmbH
Automatic window drives are essential today in many public buildings such as large office buildings, shopping centres or hospitals. They provide natural ventilation, and timed window controls ensure, for instance, that they cannot be left open overnight accidentally. Remote-controlled operation also offers advantages in terms of hygiene, because window handles do not have to be touched. The supply of fresh air improves indoor air hygiene and reduces the risk of viral infection.
Fire escape routes, thanks to natural smoke and heat extraction
Last but not least, opening drives on windows play an important role in smoke and heat extraction: In the event of a fire, our window drives guarantee that the escape and rescue routes remain as smoke-free and accessible as possible. Smoke and heat extraction opening and locking systems consist of a spindle drive and a mechanical fitting set. When smoke and heat are present, intelligent smoke extraction solutions open the windows. Even a small spindle stroke can open the window wide in just seconds. The heat and smoke generated by a fire accumulate below the ceiling and are then discharged through the air intake or exhaust air system.
Using window drives for natural ventilation
More and more building owners are discovering the benefits of automatic window openers. These are becoming popular for use them in modern office and residential buildings to increase comfort. The window drives provide a daily supply of fresh air, while helping to improve energy efficiency: If they are centrally controlled, they prevent uncontrolled opening of the windows at low temperatures. The advantages of automatic window drives are extensive - just like our range of products.
TO OUR WINDOW DRIVES
Finding the right window drive with three questions
When considering the right window drive for your needs, you should start by considering important criteria. We have assembled the following three questions to help you do just that.
What purpose should your window drive fulfil?
It is important to distinguish whether your drive is only intended for use to provide natural ventilation, or if it is also intended as smoke and heat extraction or as a SHEV device.
All GEZE window drives are suited for natural or automated ventilation. In addition, some models with chain or electric spindle drives can also be used as smoke and heat extraction systems. Our product range also includes narrow slimchain drives (Slimchain) and solutions for especially large and heavy windows (Powerchain). Are you planning to install the window opener in a private home? Then you can use the ECchain chain drive, which has been designed especially for this purpose.
The F 1200+ makes ventilation of even large and heavy bottom-hung and turn-and-tilt windows easy.
There are also window opening and locking systems for providing ventilation only: You can choose from one of our OL varieties.
If you need smoke and heat extraction in addition to the ventilation function, you can choose one of our various smoke and heat extraction variants.
Façade or roof? Depending on the location, you can choose from a variety of window drives.
Each type of opening drive, such as our chain and electric spindle drives, offer various models for different installation situations. Only our electric linear and scissor drives are used exclusively in façade applications. Safety scissor stays prevent leaves from falling, which is why they are mandatory for bottom-hung windows.
In which direction do the window leaves open?
Does your window open outwardly or inwardly?
Smoke and heat extraction and OL variants differ in the opening direction of the window and in the mounting position: RWA 100 and RWA 105 as well as OL 350 and OL 370 are inward opening and RWA 110 and OL 360 are outward opening systems.
Chain drives can be used with both opening directions. With the exception of the E 1500 S and E 3000, spindle drives can also be used with both opening directions as well.
It goes without saying that you want your window drive to fit into the installation situation as inconspicuously as possible. That is why all of our automatic window openers are designed to be very compact. However, as the models are used in different functions, their dimensions naturally differ. Please see the product sheets for further details.
Comparison of GEZE window drives
| | | | | | | | |
| --- | --- | --- | --- | --- | --- | --- | --- |
| | F 1200+ | Smoke and heat extraction NT variants | OL variants | E Drives | EC Chain | Slimchain | Powerchain |
| Suited for natural ventilation | Yes | Yes | Yes | Yes | Yes | Yes | Yes |
| Frame installation | No | Yes (except RWA 105 NT) | Yes (except OL 370 EN) | Yes | Yes | Yes | Yes |
| Leaf installation | Yes | No (except RWA 105 NT) | No (except OL 370 EN) | Yes (except E 1500 S and E 3000) | No | Yes | Yes |
| SHEV tested | No | Yes | No | Partially | No | Yes, only 24 V version | Yes |
| Operating voltage | 24 V | 24 V | 230 V | 24 V / 230 V | 230 V | 24 V / 230 V | 24 V |
| Type of opening | inward | inward / outward | inward / outward | inward / outward | inward / outward | inward / outward | inward / outward |
| Installation location | Façade | Façade | FFaçade | Roof / Façade | Façade | Façade | Roof / Façade |
Find the right GEZE window drive for your specific needs
Window calculation digital: Use our GEZE WinCalc tool
The table provides you with an initial overview of which window drives could meet your needs. Our convenient, specially-developed GEZE WinCalc software handles exact calculations for you, so that you can choose the correct window drive – a time-saving, user-friendly function.
Overview of GEZE opening and locking systems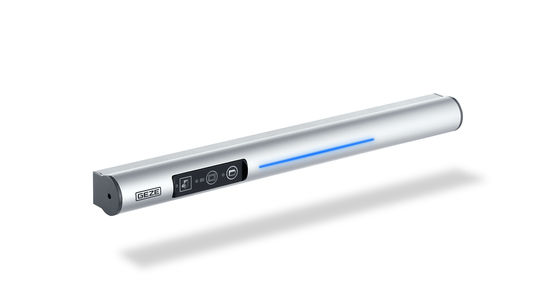 F 1200+ for ventilation of large and heavy bottom-hung and turn-and-tilt windows. © GEZE GmbH
Window drive for ventilation of large and heavy bottom-hung and turn-and-tilt windows
Automation of large window elements for natural ventilation
Can be used for natural ventilation (24 V) in the façade area
For inward opening bottom-hung and turn-and-tilt windows
Installation on aluminium windows
Leaf installation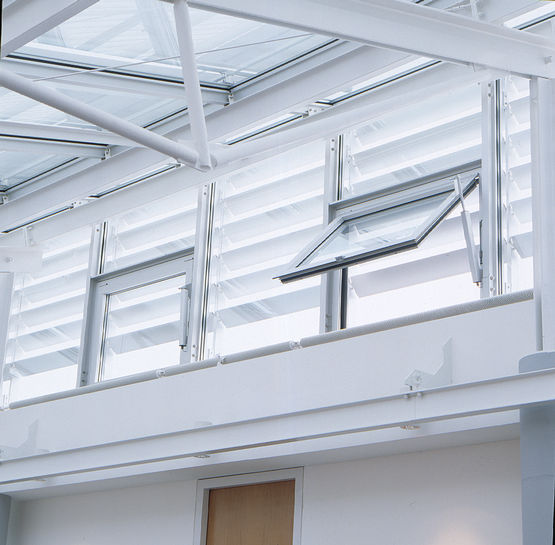 Opening and locking system for inward opening bottom-hung, top-hung and side-hung leaves. IQ windowdrive - intelligent drive control. © GEZE GmbH
Opening and locking system for inward or outward opening, bottom-hung, top-hung and side-hung leaves
Location: Façade
Areas of applications: natural ventilation, smoke and heat extraction, SHEV
Frame and leaf installations with wood, plastic or metal windows
End-position cut-off using an internal pathfinder
System solution with horizontal profiling spindle drive E 250 NT at 24 V operating voltage
Tested as a natural smoke and heat exhaust ventilation device (SHEV) in accordance with EN 12101-2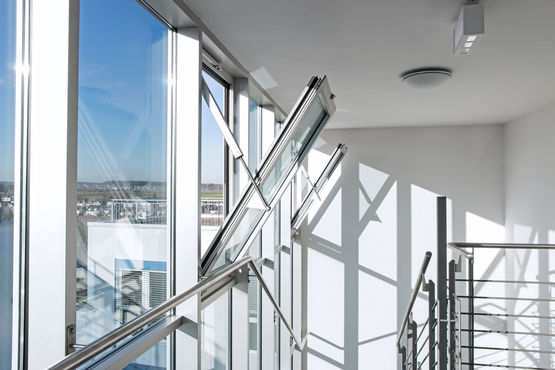 OL 350 EN opening and locking system, installed in the staircase of an office building. System solution with E 350 N profile-mounted spindle drive and a bracket set with locking mechanism. © GEZE GmbH
Opening and locking system for inward opening or outward opening bottom-hung, top-hung, slanted and side-hung windows
Area of application: natural ventilation
Location: Façade
Frame and leaf installations with wood, plastic or metal windows
Electro-mechanical end position cut-off
System solution with horizontal profiling spindle drive E 350 N at 230 V operating voltage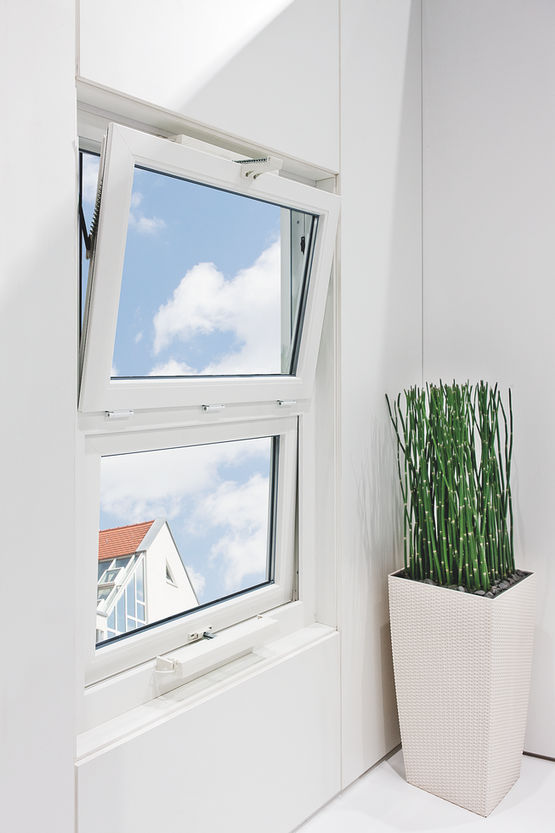 Chain drive with universal consoles for simple automation processes in the ventilation mode, installed in a residential building © GEZE GmbH
Chain drive with universal consoles for easy automation in ventilation mode
Areas of application: automated natural ventilation
Specially designed for private homes
Cost-effective
Quick and easy to mount
Universal brackets and consoles for commercially-available profile systems
Operating voltage: 230 V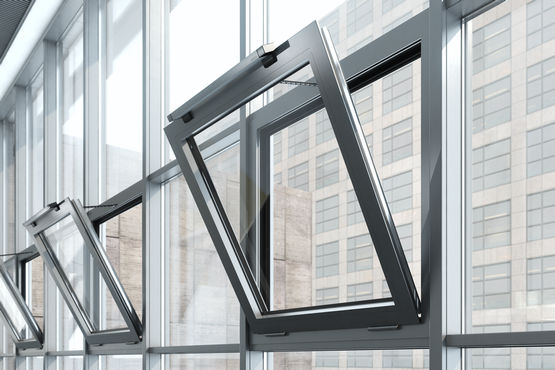 GEZE chain drive Slimchain in an office building. © Exorbitart / GEZE GmbH
Chain drive in an attractive design with many possible applications
Depending on the variant:
Areas of applications: natural ventilation, smoke and heat extraction, SHEV
Use in exhaust and fresh air system
Slim and discreet appearance
DIP switch for changing the mode of operation (solo and syncro, master, slave)
Can be connected to building automation via KNX
Operating voltage: 24 V or 230 V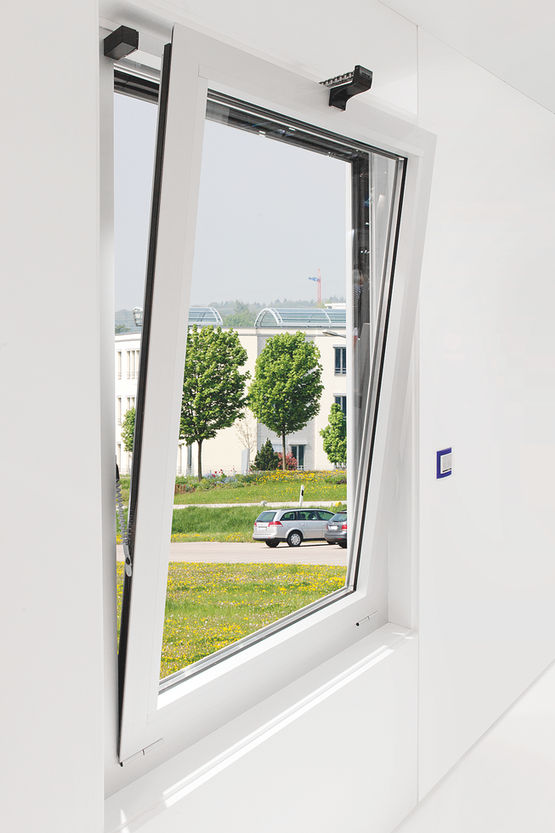 Chain drive for large and heavy window elements that need large opening widths, installed in a residential building © GEZE GmbH
Chain drive for large and heavy window elements that call for large opening widths
Areas of applications: natural ventilation, smoke and heat extraction, SHEV
Use in exhaust and fresh air system
Rapid opening speed
DIP switch for changing the mode of operation (solo and syncro, master, slave)
Can be mounted quickly and easily with the smart fix installation system
Operating voltage: 24 V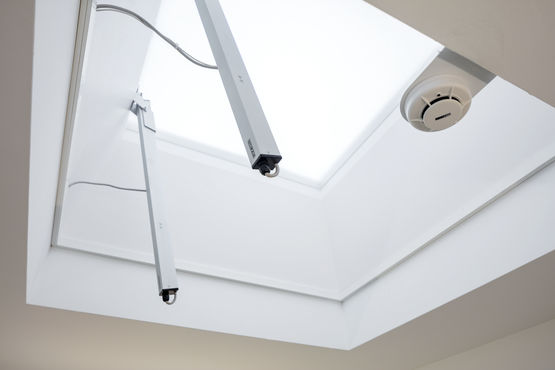 The E 250 NT is a compact spindle drive with a large area of application, such as smoke and heat extraction and natural ventilation for direct opening in façade and roof areas. In addition, it can also be installed on inward opening and outward-opening windows with bottom-hung, top-hung and side-hung leaves. © Jürgen Pollak / GEZE GmbH
Electric spindle drive in a compact design, with many different applications
Electric spindle drive in 230-V version with comprehensive console range
Electric spindle drive, with slim dimensions for heavy leaves
Electric spindle drive, with high opening and closing speeds
Electric spindle drive for heavy roof windows
Scissor drives as a design solution for optimal ventilation
Electric linear drive, for automating slimline skylight openers