At GEZE, you will find the right swing door drive for your automatic door
Swing door drives are the good little spirits of automatic swing door systems. They unobtrusively ensure that doors open and close smoothly. Thanks to them, there's no need to press a handle or switch when entering a building – and, thanks to activation devices and sensors, the doors open all by themselves the moment they detect us. An invaluable benefit in terms of convenience, accessibility and hygiene. The range of swing door drives is just as diverse as the range of applications for automatic doors. We provide you with an overview of our automatic swing door drives. Of course, you can also contact us personally at any time so that we can work together to find the right solution for you.
Accessibility, convenience, security, energy efficiency – GEZE swing door drives satisfy numerous demands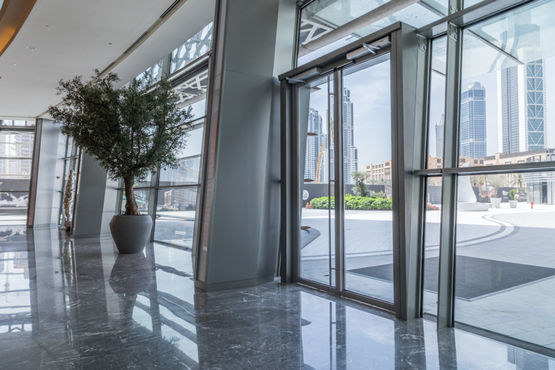 Functional and aesthetic: Powerturn swing door drive in the Dubai Opera building. © Nicolas Thome / GEZE GmbH
Especially in public building projects, accessibility is particularly important in the building code. Because of this, automatic doors are predominantly used in this area. Also with regard to fire protection regulations automatic swing doors impress with their characteristic features. Because in the event of a fire, for instance, automatic doors close automatically or, thanks to sensory protection, also recognise obstacles in the door. When selecting the right swing door drive, the type of swing door, the installation situation and the resulting demands are decisive. The size, weight and material of the door must be taken into account. Here, for instance, frameless all-glass doors demand different sliding panels than heavy single-action doors made of steel. The location of your automatic door also plays a major role: in a shopping centre, for example, exiting the building only may be called for after a certain time of the day, making it impossible to enter from the outside. Does the swing door drive design be adapted to the ambience and be as invisible as possible, for example at the entrance to a hotel's foyer? Or does the automatic swing door have to satisfy special safety aspects, such as when used at an airport? For instance in a hospital, hygiene aspects can also demand the use of special swing door drives.
More about our swing door drives
For all these different usage scenarios, we offer you a large selection of automatic door operators – and with numerous variants. But don't worry, we won't leave you to make the decision alone, and are happy to advise you.
Four questions to find the right swing door drive
The demands of automatic swing doors are complex, and the right drive plays a key role. As a step-by-step guide to help you as a planner to find your optimal solution, we have listed four questions below to provide you with initial guidance in your selection.
A direct comparison of the features of our swing door drives
ECturn-Familie
Slimdrive EMD
Powerturn
Dimensions (H x W x D)
60 x 580 x 60 mm
70 x 650 x 121 mm
70 x 720 x 130 mm
Leaf weight (max.)
125 kg
180 kg
230 kg*
600 kg
Leaf width (min.-max.)
650 – 1100 mm

Roller guide rail: 850 – 1400 mm

Link arm: 750 – 1400 mm
800 – 1600 mm
suited for a high footfall frequency
No
Yes
Yes
1-leaf/
2-leaf
Yes/No
Yes/Yes
Yes/Yes
Electric closing sequence control
No
Yes
Yes
With integrated closing sequence control (IS)
No
Yes*
Yes
For fire and smoke protection doors (F)
No
Yes*/**
Yes
With integrated smoke switch (F/R)
No
Yes*/**
Yes
With integrated closing sequence control for double leaf fire and smoke protection doors (F–IS)
No
Yes*/**
Yes
With IS for double leaf doors, door automation and door closer function (IS/TS)
No
No
Yes
For smoke and heat extraction fresh air supply and escape and rescue routes (Invers)
No
Yes
No
* = Slimdrive EMD-F ** = depending on the type of installation
GEZE swing door drives at a glance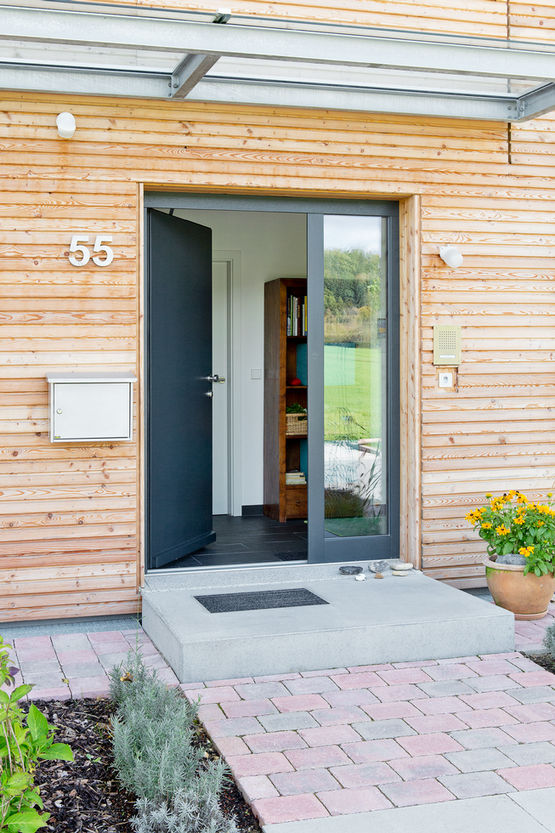 Integrated electromechanical swing door drive for barrier-free single leaf doors with electric latching action that accelerates the door just before reaching the closed position. Also equipped with obstacle detection notices an obstacle by touch and stops the opening or closing process. © GEZE GmbH
ECturn: electro-mechanical swing door drive for barrier-free single leaf swing doors up to 125 kg
particularly suitable for entrance and interior doors with moderate footfall
small and discreet swing door drive that can also automate frameless, all-glass doors
enables barrier-free access
Head and door leaf installation with guide rail or link arm
Low-energy function: opens and closes the automatic door at reduced travel speed for maximum safety
Obstacle detection: stops the opening or closing process
Push & Go function triggers the automatic drive components following light manual pressure on the door leaf
ECturn Inside: integratable electromechanical swing door drive for barrier-free single-action doors up to 125 kg
particularly suitable for entrance and interior doors with moderate footfall
Swing door drive recessed in the door leaf or frame, satisfying highest design demands
enables barrier-free access
Low-energy function: opens and closes the automatic door at reduced travel speed for maximum safety
Obstacle detection: stops the opening or closing process
Push & Go function triggers the automatic drive components following light manual pressure on the door leaf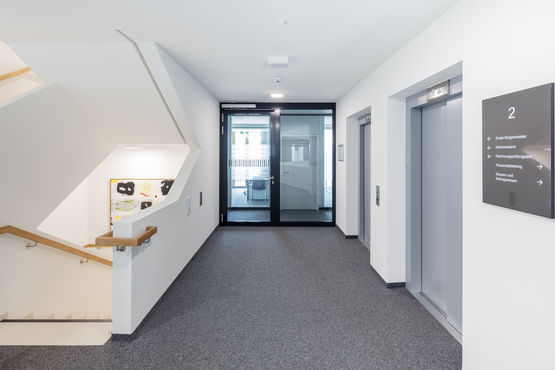 GEZE Powerturn swing door drive F/R with LS 990, Leonberg Town Hall © Jürgen Pollak / GEZE GmbH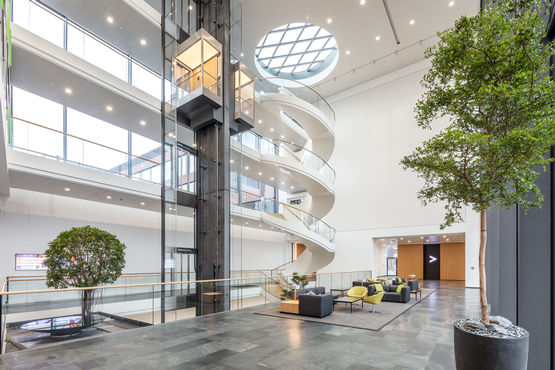 GEZE products installed in the project: Powerturn, IQ lock, CB flex, IO 420 interface module, panic push bar, Boxer, SL NT-FR, SL-T30, FTV320, GC 338, GC302R, TZ320 Blacklight, FT500-FB, MBZ N300, © Jürgen Pollak / GEZE GmbH
Electromechanical swing door drive for single and double leaf doors up to 600 kg
Depending on variant:
suitable for large and heavy interior and exterior doors
discreet design, due to low construction height
well-suited for multifunctional safety doors, escape and rescue routes or interlocking door systems
also approved for fire protection doors
Push & Go function triggers the automatic drive components following light manual pressure on the door leaf
Smart swing function for easy manual swing door opening
Low-energy function: opens and closes the automatic door at reduced travel speed for maximum safety
Find out more about GEZE Powerturn
Find out more about GEZE Powerturn F
Find out more about GEZE Powerturn IS
Find out more about GEZE Powerturn F-IS
Find out more about GEZE Powerturn F-IS/TS
Find out more about GEZE Powerturn F/R
Find out more about GEZE Powerturn F/R-IS
Find out more about GEZE Powerturn IS/TS
Automatic swing door systems – product abbreviations
| | |
| --- | --- |
| Abbreviation | Meaning |
| F | Fire and smoke protection doors |
| IS | Integrated closing sequence control |
| F-IS | Integrated closing sequence control for double leaf fire and smoke protection doors |
| IS/TS | Integrated closing sequence control for double leaf doors, automatic door system and door closer function |
| Invers | Smoke and heat extraction fresh air supply solutions as well as doors in escape and rescue routes |
| EN7 | For large, heavy and intensely used doors |