Find the right revolving door for your needs – GEZE can help.
Dimensions, access frequency, burglar protection, design, automatic or manual drive: Because modern revolving doors need to fulfil a wide range of stipulations, GEZE offers many different revolving doors. This variety can make it a challenge for even experienced planners choose the right revolving door. That is why we provide you with an overview of our revolving door selection here. Can't find the right solution for your needs? Contact us - we also offer solutions individually tailored to your needs.
GEZE revolving doors in the entrance area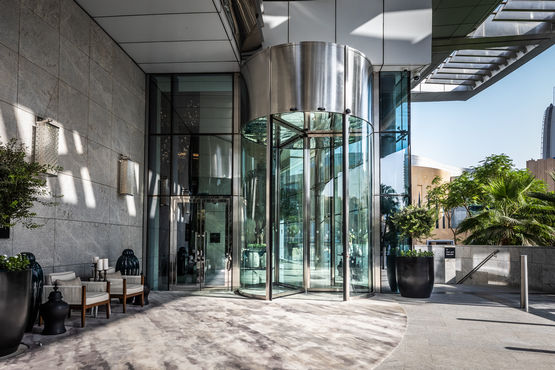 Extra tall revolving door systems with heavy leaves © Nicolas Tohme / GEZE GmbH
First impressions count. This is why revolving doors are usually installed in entrance areas. Revolving doors are particularly important in this application. A sophisticated look, excellent feel, and of course flawless function are essential to give visitors a positive impression. Practical considerations also motivate building operators to use revolving doors: They keep draughts, noise, dust, and dirt outside. This helps create an entrance area with a pleasant indoor climate, with the entire space available for use. The clear spatial separation between the interior and exterior, as well as the energy this saves, offer significant cost advantages and make the use of revolving doors even more appealing. Last but not least, they also help visitors enter the building more quickly, particularly an advantage for public buildings such as airports or shopping malls.
In short: thanks to their broad functional diversity and practically unlimited design freedom, revolving doors leave nothing to be desired in planning or architecture – whether for emergencies or everyday operation. The GEZE product range also includes a large number of "standard revolving doors", and our GEZE Solution Team goes even one step further in terms of customisable features: We offer speciality sizes, and can handle applications with highly specialised stipulations.
To our revolving door products
Go to reference project: Extra-large revolving doors for the entrance area to the Roche Tower
Five questions to find the right revolving door
Multiple different specifications and a wide range of different variants increase complexity for planners. Answer the following five questions to be certain you can choose a system that works for your needs. Once you have clarified the specifications behind these questions can you consider other functions and the design of your revolving door.
Equipment of our revolving door systems – a direct comparison
Revo.PRIME
TSA 325 NT
Automatic
TSA 325 NT
Manual
TSA 355
Automatic
TSA 355
Manual
TSA 395

TSA 395 Multi

Manual operation
Yes
Yes
Yes
No
Yes
No
No
With speed limiter (optional)
Yes
Yes
Yes
No
Yes
No
No
With
positioning device (optional)
Yes
Yes
Yes
No
No
No
No
Fully automatic operation
Yes
Yes
No
Yes
No
Yes
Yes
Barrier-free
No
No
No
No
No
No
No
Inner diameter (min.)
1800 mm
1800 mm
1800 mm
1700 mm
1700 mm
3900 mm
3500 mm
Inner diameter (max.)
3800 mm
3600 mm
3600 mm
3900 mm
3100 mm
5900 mm
5300 mm
For 3-leaf door systems
Yes
Yes
Yes
Yes
Yes
Yes
No
For 4-leaf door systems
Yes
Yes
Yes
Yes
Yes
Yes
No
Clear passage height
3500 mm
3000 mm
3000 mm
3000 mm
3000 mm
3000 mm
2500 mm
Canopy height (min.)
75 mm
200 mm
75 mm
300 mm
150 mm
400 mm
500 mm
Hot-air curtain system
Electric air curtain, hot water air curtain possible depending on the ceiling construction
Electric air curtain, hot water air curtain possible depending on the ceiling construction

Hot water air curtain, electric air curtain possible depending on the ceiling construction

Hot water air curtain, electric air curtain installed on the ceiling construction
Night-time closer layout
inside/outside
inside/outside
inside/outside
outside
outside
outside
Night-time closer is achieved by the positioning of the turnstile
Statements of approval
EN 16005
DIN 18650, EN 16005
DIN 18650, EN 16005
EN 16005
EN 16005
EN 16005
EN 16005 pending
Overview of GEZE revolving doors