Find the right automatic sliding door for your requirements – GEZE will assist you.
Be it as access to an elegant foyer, as the entrance to a store in a shopping centre or as a hygienic door in the nursing and health care sector – depending on the type of building and location, automatic sliding doors must meet a wide range of different user requirements. This results in a wide variety of sliding door solutions, which even for experts is not easy to keep track of. This page provides you with an overview of our range of automatic sliding doors. Can't find the right solution for your needs? Please contact us, we would be pleased to talk to you personally about appropriate solutions.
GEZE sliding doors for various requirements
In most cases, automatic sliding doors are used in entrance areas of buildings. As the "calling card" of the building, they must therefore satisfy appropriate requirements – for example, they must act as an escape and rescue door or as protection against burglary. And of course, design aspects often tend to play a key role here. The use of sliding door systems in the entrance area offers the advantage that they are both comfortable and barrier-free/access. In addition, sliding door systems require little space for installation. And let's not forget daylight, which, in combination with the stylish design of sliding glass doors, significantly enhances the ambience and flair of the building. This is why hotels and stores like to use automatic sliding door solutions in reception and entrance areas.
Automatic sliding doors are however also used inside buildings - for example in industrial buildings or clinics. Here, further requirements come into play: for example, extra large and heavy door leaves or special hygiene conditions for surgical doors. A further strength of sliding doors lies in room partitioning, for example, the separation of guest rooms and kitchens. Here, too, the automatic sliding door stands out due to its contactless ease of access.
Our GEZE portfolio includes automatic sliding doors for all these requirements and applications.
Go to our automatic sliding doors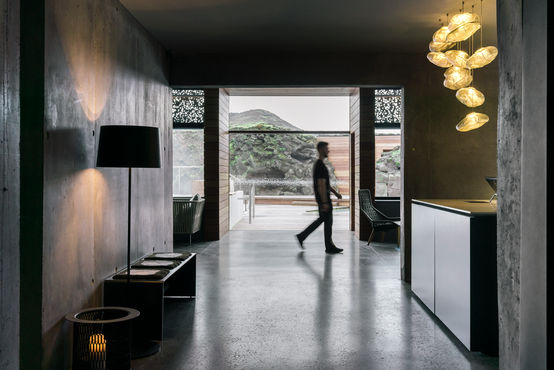 GEZE sliding doors harmonize with the exclusive architecture in the luxury resort The Retreat Hotel in the Blue Lagoon in Iceland. © The Retreat at Blue Lagoon Iceland
In addition, we also provide solutions for very specific and highly individual requirements. For example, automatic sliding doors for use in narrow glass facades or with special burglar resistance. We also have the experience required for solutions with particularly large automatic sliding doors or automatic sliding door systems with integrated skylights. Feel free to contact us – together with our GEZE Solution Team, you will find the optimal solution to cater to your specific needs.
Individual sliding door solutions for projects with specific requirements
Five questions to find the perfect automatic sliding door
When you start your search for your automatic sliding door, first identify your key requirements. To help you do this, we have listed five questions below to help you find the right sliding door system.
The features in direct comparison
GEZE ECdrive T2
GEZE Slimdrive SL NT
GEZE Powerdrive PL

Height
100 mm
70 mm
150 – 200 mm
Depth
190 mm
190 mm
185 mm
Opening width 1-leaf
700 mm – 3000 mm
700 mm – 3000 mm
700 mm – 3000 mm
Opening width 2-leaf
900 mm – 3000 mm
900 mm – 3000 mm
800 mm – 3000 mm
Leaf weight (max.) 1-leaf
140 kg
125 kg

200 kg

160 kg for the Powerdrive PL-FR
Leaf weight (max.) 2-leaf
2 x 140 kg
2 x 125 kg

2 x 200 kg

2 x 160 kg for the Powerdrive PL-FR
Opening / closing speed (max.)
0.8 / 0.8 m/s
0.8 / 0.8 m/s
0.8 / 0.8 m/s
Redundant sliding doors for escape and rescue routes (FR)
Yes
Yes
Yes
Fine-framed- ISO/MONO
Yes
Yes
Yes
GCprofile Therm, thermally separated profile system fine-framed
Yes
Yes
Yes
Toughened safety glass clamping fitting fine-framed
Yes
Yes
Yes
All-glass system (GGS)
No
Yes
No
Integrated all-glass system (IGG)
No
Yes
No
Smoke proofing
No
Yes
No
Air tight
No
No
Yes
Telescope
No
Yes
No
Folding door
No
Yes
No
Service temperature
-15 °C – 50 °C
-15 °C – 50 °C
-15 °C – 50 °C
Statements of approval

DIN 18650, EN 16005, DIN EN ISO 13849: Performance Level D

optionally also available as hygienic door
DIN 18650, EN 16005, DIN EN ISO 13849: Performance Level D

DIN 18650, EN 16005, DIN EN ISO 13849: Performance Level D

optionally also available as hygienic door
Automatic sliding doors from GEZE at a glance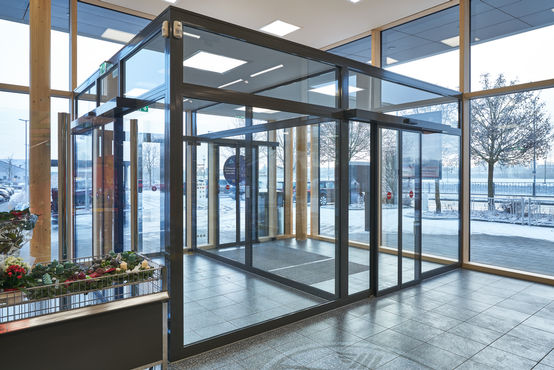 Automatic linear sliding door system for escape and rescue routes © Robert Sprang / GEZE GmbH
Economic system for automatic sliding doors with high movement cycles (up to 140 kg leaf weight)
Depending on variant:
for linear sliding door systems
slim design with only 100 mm cover height
Leaf weight: 120 or 140 kg, depending on profile system
for escape and rescue routes
energy-efficient profile systems
networking via GEZE Cockpit possible
self-cleaning roller carriage
various mechanical and electrical locks are optionally available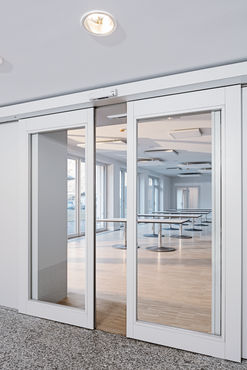 The new GEZE Slimdrive SL NT automatic sliding door system is ideal – particularly in glass façades where large door leaves have to be moved and all components have to look slim and delicate. © Lorenz Frey / GEZE GmbH
System for automatic sliding doors with low overall height and clear design line (up to 125 kg leaf weight)
Depending on variant:
very quiet-running, low-wear direct current drive with a height of only 7 cm
also for telescopic sliding door systems
for use on glass façades and for all-glass solutions
with burglar resistance in accordance with resistance class 2.
for escape and rescue routes with break-out function (BO)
for smoke-tight doors and fire protection doors with fire resistance class T30
for 360° solutions
for use on angled façades or corners
classic for post-rail constructions
self-cleaning roller carriage
various mechanical and electrical locks are optionally available
More about GEZE Slimdrive SL NT
More about GEZE Slimdrive SL NT-FR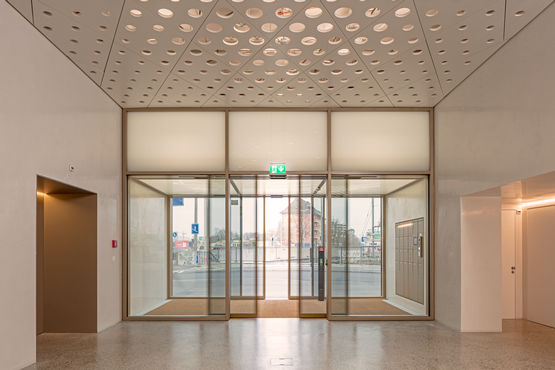 The automatic sliding door drive GEZE Powerdrive PL-FR was installed in the Grosspetertower, Zurich. © Lorenz Frey / GEZE GmbH
System for automatic sliding doors with large heavy leaves (up to 200kg leaf weight)
Depending on variant:
very powerful drive for large heavy door leaves and wide opening widths
for escape and rescue routes (up 160kg leaf weight)
various mechanical and electrical locks are optionally available