Planning window technology properly with GEZE
Windows are playing an increasing range of roles in modern buildings. They improve the indoor climate by providing natural ventilation, play a crucial part in respect of energy efficiency, and ensure smoke and heat extraction in the event of fire. In addition, there are building-specific demands in terms of hygiene, comfort and safety. As a planner, it is easy to lose track of everything. As a partner for architects and planners, our experts are on hand to provide advice – from planning and individual project management, right through to commissioning.
Window technology has to meet diverse demands
Windows are playing an increasingly important role in buildings. Planners and architects thus face complex challenges when planning windows . In addition to the design aspects, they need innovative window functions that can satisfy the increasing demands placed on modern and liveable buildings. They must comply with legal regulations. This is where well-designed and safely-planned window systems come in.
A variety of potential uses: Which window is right?
Large windows are in high demand currently, and not just for design reasons. They flood rooms with plenty of natural daylight and give users a feeling of warmth and freedom. But modern windows must be capable of more: In addition to technical factors such as light penetration, heat, sound, and burglary protection, plus resistance to wind and rain, they also have to take on important functions such as ventilation or smoke and heat extraction. And there are additional criteria depending on whether it is roof windows or façade windows that are planned. The type of building and the user group also make a difference. These demands are often contradictory at first glance, making it hard to pick the right window solution.
Legal regulations for window planning
Not many people know: Power-operated or automated windows are machines according to the European Machinery Directive MRL 2006/42/EC. As a result, there are risk assessment requirements not just for manufacturers, but also for the planners, fitters and operators of these windows. In addition to certain technical specifications, they are subject to regular mandatory inspection. The machine manufacturer must ensure that a risk assessment is performed to determine the health and safety requirements applicable to the machine. This is the responsibility of the planner or the body issuing the invitation to tender. The risk assessment is performed according to the installation situation, the purpose of the building and the user group. For example, schools, child daycare centres and hospitals are assigned to the highest protection rating 4 if there is a risk of people being injured by power-operated windows.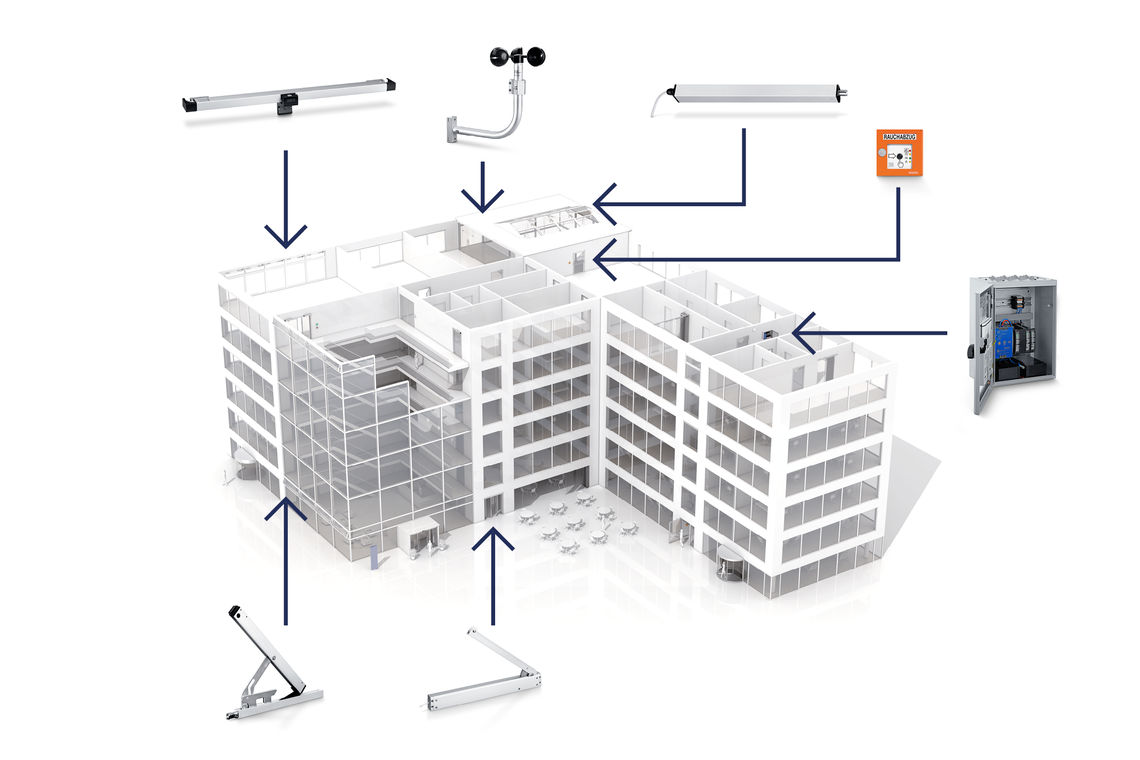 Window planning in modern buildings also involves complex demands.
Window technology needs to be planned – there could otherwise be an impact on costs, as well as unnecessary stress
Architects and planners need to think in detail about the use of windows in advance. What function will the window fulfil? Will it be used for natural ventilation or for smoke and heat extraction? Or a combination of both? Which window type (side-hung, bottom-hung or top-hung window) is needed, and which opening direction corresponds to the installation situation? In addition, there are factors such as window dimensions, leaf weight, required opening widths (ventilation and smoke and heat extraction system), the intended use of the room and the user groups. If one or more of these parameters changes later in the process, time-consuming replanning or retro-fitting work may be necessary. For example, time and again the dimensions and weight of the window are specified incorrectly or change, so that the selected window drive no longer fits. It is also irritating if the power supply is too weak for the selected activation. Or if protective measures such as pinch protection were forgotten in the planning, and the operating the window is thus prohibited.
For daily ventilation or in the event of fire, the range of window products extends from mechanical fitting systems for fanlights and smart drive systems for natural ventilation and exhaust, to complete solutions for preventive fire protection. It is therefore important to know in advance which functions the windows have to fulfil in a building.
Windows fulfil important functions in buildings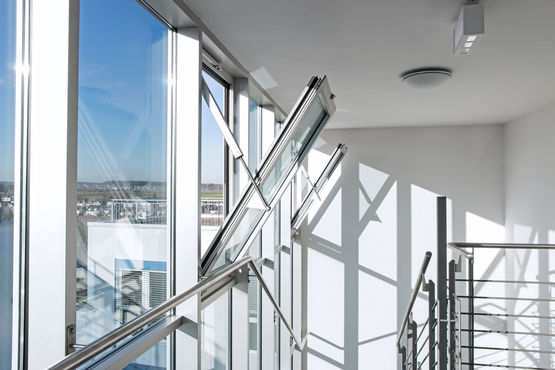 Opening and locking system OL 350 EN, installed in the stairwell of an office building. © GEZE GmbH
Natural ventilation thanks to intelligent window drives
One of the key functions of windows is natural ventilation. Depending on the building, the specifications for indoor air are regulated differently. According to the German Energy Saving Ordinance (EnEV), in all instances "the minimum air exchange required for health and heating purposes must be ensured". Architects must therefore take air quality and thermal comfort into account even at the building planning stage. This comprises the CO2 content, the temperature, the humidity, and the air circulation in the room.
Here, natural ventilation via power-operated windows provides a smart and convenient solution: sensor or time-controlled window drives open windows automatically before the room air quality deteriorates. The benefits are clear: the exchange of air improves the indoor climate. At the same time, the risk of infection from aerosols is minimised. Due to a lower CO2 content in the air, our powers of concentration are improved. In addition, fewer germs are transmitted when windows no longer have to be opened manually. Additional benefits: Demand-led automatic ventilation protects both the substance of the building in the long term and consumes less energy. Demand-led ventilation is thus becoming increasingly important, especially for climate-neutral buildings.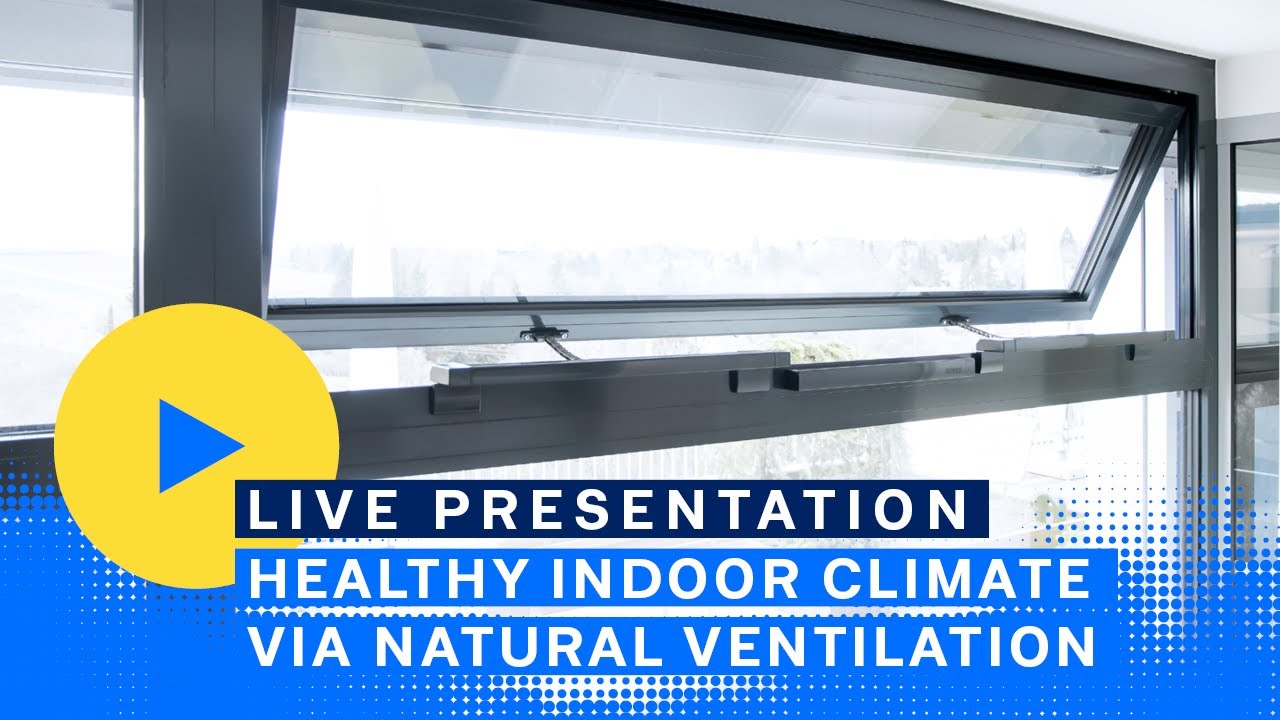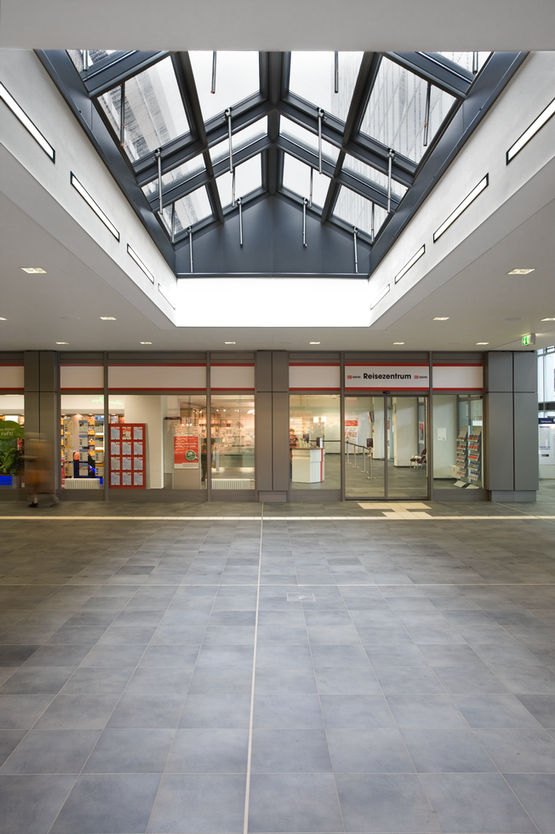 E 1500 synchro at Saarbrücken station
Intelligent smoke extraction solutions open windows in the event of a fire
In a fire, toxic smoke within the building is one of the greatest sources of danger. People can become unconscious or lose their sense of direction within seconds. Apart from the smoke, the enormous heat that is generated in a fire can destroy the structure and fabric of a building.
A smoke and heat extraction system helps to protect both people and objects in the event of a fire. Automated windows play a crucial role as a part of a smoke and heat extraction system. In the event of a fire, they direct the toxic smoke outside via opening drives and intelligent smoke extraction solutions, supply fresh air, and thereby support fire-fighting.
Window planning: Our project consultants ensure the right products in the right place
The more product groups that are involved, the greater the risk of misunderstandings. For instance, when it comes to window technology, not only the architect but also façade planners, ventilation planners, fire protection planners, and the window or metal workers may be involved. Building owners are therefore well advised to have a project consultant or a technical/commercial consultant from GEZE coordinate these product groups. They provide support in planning and help to ensure that the right products reach the installers on time. In addition, they provide valuable assistance during installation and commissioning.
GEZE offers a wide-ranging product portfolio here:
From fitting systems for day-to-day ventilation and exhaust and
drive systems for automated ventilation and exhaust,
to fresh air intake and exhaust air systems for safe and rapid smoke and heat extraction.
With WinCalc, our window calculation tool, we will find the right drive solution for your windows aligned to your needs and the desired installation situation. If power-operated windows are planned, we perform a safety analysis with you to define the necessary protective measures. From protection rating 0 to 4, we can offer you safe solutions. For example, our IQ box Safety uses sensors to stop the closing of a window as soon as a foreign object is detected.
Our goal is to promote the development of liveable buildings. As a partner to architects and planners, we advise from an early stage on the possibilities of natural ventilation, the relevant safety aspects of power-operated windows and any necessary protective measures resulting from this.
Dr Dominik Landerer, Product Manager at GEZE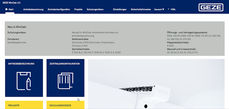 WinCalc window calculation programme
GEZE WinCalc handles the complicated calculations when designing a window system: it's time-saving, user-friendly and convenient. This programme allows you to calculate manual as well as electric motor-driven ventilation windows, smoke and heat extraction system windows and SHEVs, and also helps you design the right smoke and heat extraction system control unit.
The calculation programme handles the complex calculations for the system design of a window and provides all the drive solutions that can be used.
How GEZE supports you with your window planning
GEZE offers a unique range of support services. In addition to our on-site project consultants, you can also take advantage of a wide range of tools and services.
In our training centres, we offer you a comprehensive qualification programme for GEZE products, as well as seminars on specialist topics.
Our WinCalc planning and calculation tool performs all the complicated calculations for the system design of a window
On our YouTube channel, you can find comprehensive installation videos for our products