Improved energy efficiency: here's how it works, thanks to a climate-active façade
Die klimaaktive Fassade am Schulzentrum der Mittelschule Grundäckergasse in Wien integriert innovative Tür-, Fenster- und Sicherheitssysteme von GEZE in ein smartes Gebäudeleitsystem – für mehr Komfort, angenehmeres Raumklima und eine optimierte Energieeffizienz.
How do smart façades work?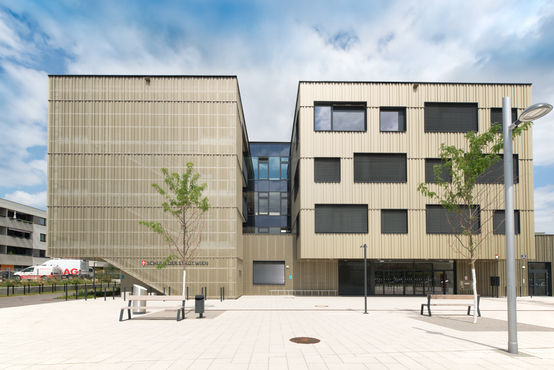 The Grundäckergasse secondary school relies on intelligent façades. © Sigrid Rauchdobler // GEZE GmbH
Smart façades are designed to reduce the energy consumption of buildings. Their key features are
intelligent materials and systems,
sensors for recording data,
the ability to adapt to ambient conditions,
the ability of components to communicate with other systems, and
improved building automation to minimise the need for heating and air-conditioning.
In this way, building smart façades can reduce energy consumption, improve quality of life for users, and make the building more sustainable.
Advantages of smart façades
Adaptiveness: Smart façades use sensors to record data like light intensity, temperature and air quality, then adapt automatically to changing ambient conditions.
Comfort: Needs-based control is user-friendly and ensures a comfortable indoor climate – without manually opening and closing the windows.
Energy efficiency: Smart façades can communicate with other building systems, helping to reduce energy consumption and CO2 emissions.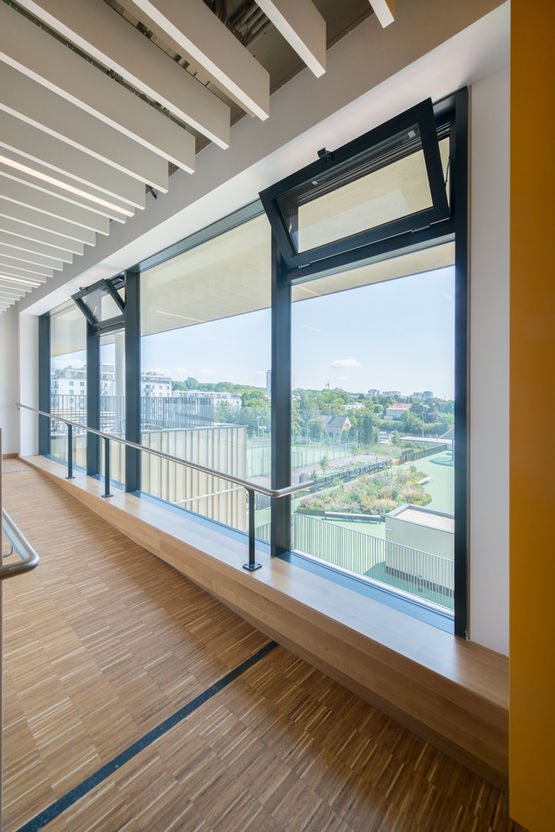 Slimchain chain drives for increased safety and energy efficiency. © Sigrid Rauchdobler // GEZE GmbH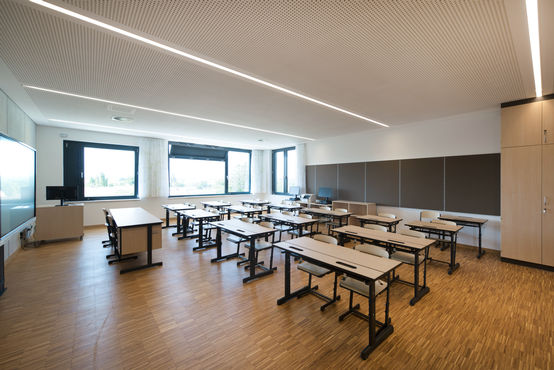 Optimal indoor air quality for learning © Sigrid Rauchdobler // GEZE GmbH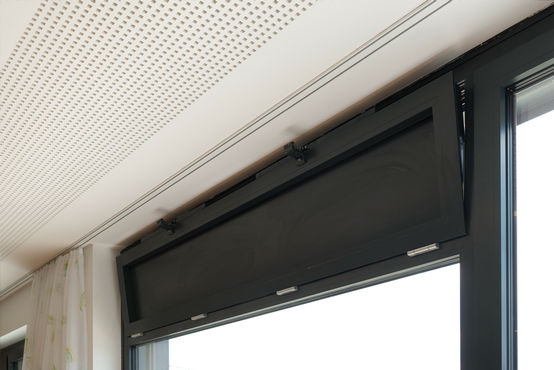 All motorised windows installed below 2.5m are equipped with the GC 342 laser scanner and a safety switching module. © Sigrid Rauchdobler // GEZE GmbH
Clever: intelligent sensors control automated window ventilation
The windows are equipped with Slimchain chain drives that are integrated into the building management system.The ventilation systems in the climate-active façade of the school building are controlled using intelligent technology to ensure optimal indoor air quality. The control depends on various factors, like CO2 concentration, inside and outside air temperature, room usage, and the time.
Sensors that measure CO2 concentration and temperature are used to monitor indoor areas. These offer three-stage regulation: 10°, 35° (slow and quiet ventilation) and 55° (rapid ventilation). Both teachers and students can adjust these settings. In addition, the system detects the wind direction, considering façade-dependent factors like wind pressure and wind suction, in addition to preventing draughts. Overflow elements ensure a controlled air exchange and are sound-insulated.
User-friendly: automated ventilation + manual push buttons
Ventilation in the building at the Grundäckergasse Middle School is controlled automatically, dependent upon CO2, temperature, usage, and the time. This solution allows for controlled natural ventilation, eliminating the need for manual ventilation by teachers. However, there are also operating elements teachers and students can use to intervene in the controls if necessary. These push buttons offer the option of manually opening or closing windows. That means the automated window ventilation system remains user-friendly and flexible.
Safe design of automated windows
Schools need to comply with high safety standards – after all, these are designed to protect the well-being of children. That is why it is important to consider that motorised windows are classified as machines under the Machinery Directive 2006/42/EC, and are to be protected accordingly. All motorised windows mounted under 2.5m in the school building at the Grundäckergasse Middle School were equipped with the GC 342 laser scanner and a safety module. This window safety system is on the inside and outside on the 1st floor in the patio area.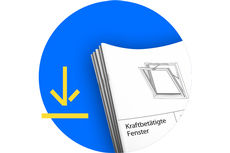 Tip: identify hazardous areas around windows – with a free GEZE safety analysis
Already during the planning stage, the GEZE safety analysis for power-operated windows serves as a guideline for the risk assessment that must be performed prior to commissioning – depending on the individual installation situation and user groups – in compliance with the Machinery Directive 2006/42/EC.
TO THE SAFETY ANALYSIS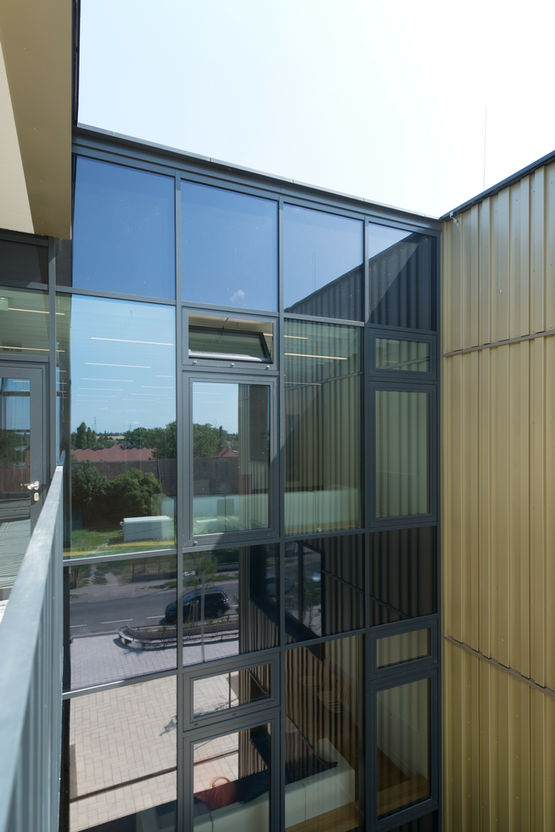 Night cooling takes place via automatically controlled windows. © Sigrid Rauchdobler // GEZE GmbH
Night-time ventilation saves energy
Automatic night-time cooling contributes to energy efficiency at the Grundäckergasse Middle School. Windows automatically-controlled with Slimchain window drives dissipate heat generated during the day outside at night, lowering the room temperature in a targeted way during night-time hours.
Night-time cooling is controlled via an on-site software, which handles not only regulation, but also visualisation. This way, operators and users can change settings. The system is controlled via the building management system (BMS), with both temporal and temperature-dependent factors taken into consideration.
LEARN MORE ABOUT NIGHT-TIME COOLING
Seamless integration into the building management system via BACnet and KNX
Activation and feedback of the window drives via the building bus are handled by the IQ box KNX. Reliable status reports from each automated window ensure more efficiency in building monitoring. Other components like push buttons and sensors are connected through the integrated push button interface. This means that retrofitting and expansions can be completed easily as needed.
Communication between the KNX and BACnet environment of the building management system (BMS) is smooth, since clear communication protocols have been defined between the systems. This guarantees efficient data transfer between the two systems.
Overview of the advantages of climate-active façades
Optimal indoor air quality through intelligent control of ventilation systems
Adaptation of the ventilation, based on CO2 concentration, temperature, usage and time with three-stage regulation.
Manual ventilation control possible via operating elements for teachers and students.
Window safety, thanks to safety modules and GC 342 laser scanners.
Wind direction taken into account to avoid draughts.
Energy efficiency thanks to controlled air exchange and night-time cooling.
Integration of BACnet sensors and KNX interface allows for efficient communication with the building management system.
Innovative technologies help save energy and reduce CO2.
Smart Building concept promotes sustainability and optimal building efficiency.
Forward-thinking: better sustainability and energy efficiency
The climate-active façade on the Grundäckergasse Middle School in Vienna is an outstanding example of how to integrate smart technologies and more sustainable concepts in building, so as to meet future challenges in the areas of energy efficiency and sustainability. GEZE not only delivered the components necessary to do so, but also provided comprehensive advising and project management and programming services to make the project a success.