Tips on window safety systems, safety analysis and protection ratings
Natural ventilation with automated windows is convenient and efficient. Power-operated windows, however, need protective measures in compliance with specific protection ratings. Discover tips here on completing risk assessments for power-operated windows and on comprehensive window protection system solutions.
Automated windows allow for controlled natural ventilation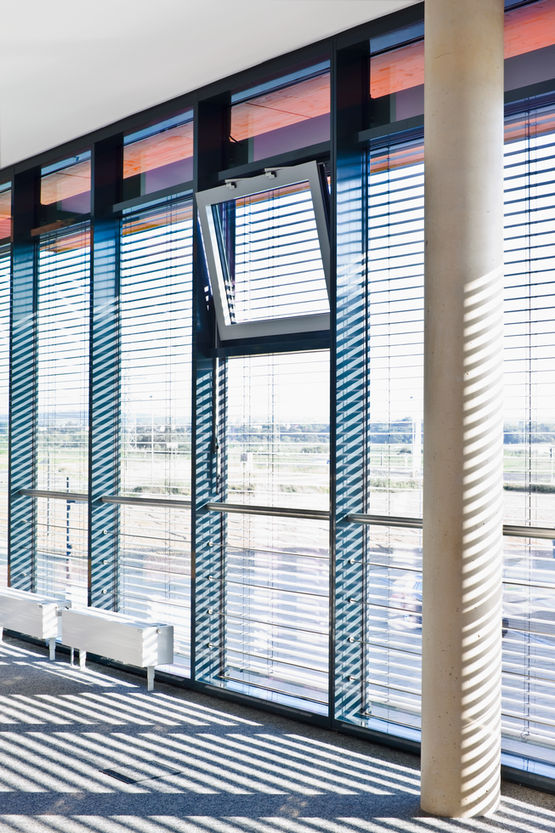 Automated power-operated windows contribute to good indoor air hygiene.

Power-operated windows with motorised drives are considered to be machinery
The regular ventilation of indoor areas – in offices, schools and places of public assembly – is a key issue in the everyday lives of many people, and not just since the start of the coronavirus pandemic. Architects and planners are interested in natural ventilation using windows, in particular when creating climate-neutral buildings. Another important aspect is ensuring healthy indoor air hygiene. Automated power-operated windows are an outstanding choice in this respect. However, depending on the installation situation, protective measures may be needed to ensure safe operation.
Challenges of power-operated windows for architects and planners
Power-operated windows with motorised drive units for opening and closing are considered machines, and are therefore classified under the Machinery Directive 2006/42/EC. It is therefore important to determine the individual specifications for the power-operated window in the building early on, and to ensure across all disciplines throughout the planning, manufacturing and commissioning process that the machine maintains a sufficient level of protection to avoid accidents. The Machinery Directive stipulates that, in the course of commissioning the machine, a risk assessment must be performed which analyses whether a window is in a hazard area and whether it poses any risks – and what safety measures must be implemented.
Completing a safety analysis and defining the right window safety system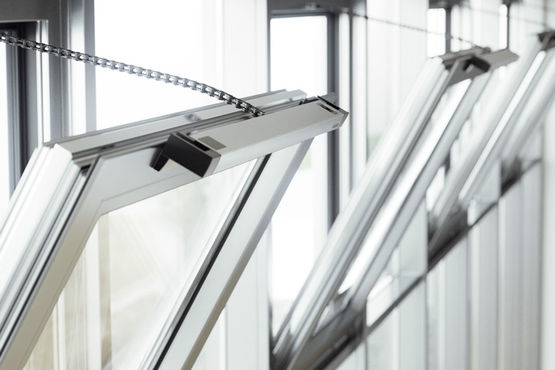 Automated windows are assigned to different protection ratings.
At GEZE, we use our safety analysis to determine central aspects that are relevant to safety; this can be used as a guideline for conducting a risk assessment according to the Machinery Directive, which is valid throughout Europe. Our safety analysis indicates how potential dangers in relation to power-operated windows can be excluded or reduced depending on the particular installation situation and user group. It also describes potential technical solutions for the necessary protective measures when bringing the machine to market, and indicates any residual risks.
How are protection ratings determined for automated windows?
In general, three core elements are taken into account when assessing the risk and determining the safety of power-operated windows:
Installation position: Are the power-operated windows freely accessible, or is the lower edge of the leaf greater than 2.5 m?
How the space is used: Do people in need of additional protection (e.g. children in schools or in daycare), or persons who cannot be instructed on safe usage (such as in places of public assembly and retail spaces) regularly use the premises?
Activation: Is operation automatic or manual, but with no visual check?
Protection ratings 0 to 4 are determined based on these factors, along with resulting protective measures to minimise the risk.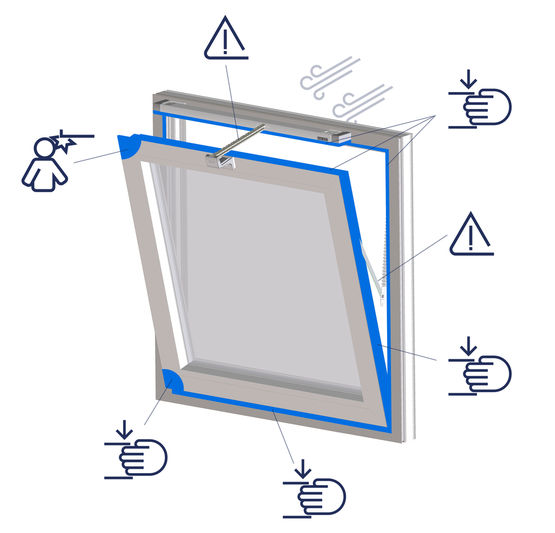 Hazardous areas on power-operated windows.
What potential hazards do power-operated windows pose?
In addition to assessing the structural circumstances – such as the potential for the leaf to fall – it is important to evaluate pinch and shearing points on the primary and secondary closing edges of the window that could present a hazardous area during closing. This is particularly relevant in buildings such as schools, nursery schools and hospitals, as well as in buildings that are open to the public, such as places of public assembly and retail spaces. Here in particular, it is vital to ensure that improper or careless use of the window does not result in injury.
Do all automated windows need protective measures?
Windows that are part of a smoke and heat extraction system and not used for ventilation purposes, and ventilation windows installed at higher than 2.5 metres receive protection rating 0 and do not need further protective measures.
What protection ratings apply to ventilation windows?
Ventilation windows that are freely accessible fall within an evaluation group where the room usage and activation type are assessed. Protection ratings 1 and 2 apply in particular in offices and residential buildings where users can be instructed on safe operation and can therefore assess the potential hazards.
User groups who cannot be instructed on the safe use of the windows, as is the case in shopping centres or places of public assembly, and people who are unable to reason or people in special need of protection, such as in nursery schools, will result in the higher protection ratings 3 and 4, alongside automated activation of the power-operated windows, for example via a building management system.
Protection ratings 3 and 4 result in high specifications for window protection

Window pinch protection can be implemented using various components.
Possible protective measures to fulfil protection rating 3 include, for example, restricting the opening width of the main closing edge to 200 millimetres, or limiting the leaf movement in the closing direction to a maximum of 5 millimetres per second. Window drives from GEZE are designed to ensure protection rating 3 as standard. If protective measures compliant with protection rating of 4 are necessary, these can be ensured with a dead man's control with authorised operation.
To ensure complete automation of power-operated windows, safety sensors combined with the IQ box Safety module are a better alternative: this is a TÜV-tested solution for closing edge protection of power-operated windows with contact or non-contact sensors for GEZE 24V IQ windowdrive drives.
How does IQ box Safety improve window protection for users?
IQ box Safety ensures that the automated ventilation windows close safely for all user groups by protecting the pinch and shearing points on main and secondary closing edges. The pinch protection reliably stops or reverses the closing movement if the non-contact or contact sensors detect a foreign object. This means people, hands and fingers cannot be pinched. Finger guards are important especially in schools and nursery schools, since children are considered in need of special protection.
Other advantages of IQ box Safety
Maximum safety pursuant to the Machinery Directive
TÜV-tested in accordance with EN ISO 13849-1
Simple installation and parameter setting via plug and play: clamp, insert, done
The right solution for any application and mode of operation
Suitable for natural ventilation and for smoke and heat extraction systems. Alarms are prioritised in case of an emergency
4 pre-configured sensor inputs for safety switch strips and optical sensors – flexible combinations according to the window specifications
With IQ box Safety, we can offer a suitable solution for many different specifications for automatic windows – even for the highest safety specifications of protection rating 4.
Dr Dominik Landerer, GEZE Product Manager
What advantages does IQ box Safety offer compared with other window protection products?
As a TÜV-tested solution, IQ box Safety fulfils standard EN ISO 13849-1 and -2. It is suitable for applications in the field of natural ventilation, as well as for smoke and heat extraction systems (SHEV) with a ventilation function. The top hat rail module with plug-in clamps and four pre-configured sensor inputs for safety switch strips and non-contact sensors allows for fast, simple commissioning of the overall system, and provides high flexibility and creative freedom when designing ventilation and smoke and heat extraction system windows.
With the IQ box Safety, we offer planners, installation companies and operators a comprehensive solution from a single source, thereby ensuring safe operation of many different window types, including for protection rating 4.
In the near future, we will be living and working in climate-neutral buildings. Natural ventilation with the help of power-operated windows can be one building block for achieving this goal, and is becoming increasingly important to architects and planners.
Dr Dominik Landerer, GEZE Product Manager
Forward-thinking ventilation concepts for liveable buildings
Our goal is to promote the development of liveable buildings. We do so first through innovative products that help advance both safety and networking with building technology, in order to implement natural ventilation concepts in buildings. We serve as a partner to architects and planners, providing advice at an early stage on options for natural ventilation, relevant safety aspects for power-operated windows, and any protective measures needed as a result. We also act as an expert for our customers as they develop alternative solutions to prevent safety risks in the initial stages.
Our project consultants are available throughout Germany, providing building-specific advice on all of our products, and working with planners to develop potential solutions for individual issues.
At GEZE, we aim to offer architects and planners maximum planning and creative freedom, and help improve the quality of life and comfort in buildings through the safe use of automated windows.
Dr Dominik Landerer, GEZE Product Manager