Automatic door systems from GEZE at Rigshospitalet in Copenhagen
Rigshospitalet in Copenhagen has just moved a step closer to the healthcare system of the future. A new annex, the North Wing, is dedicated to hi-tech surgery, demanding patient treatment, and research. The prestigious healthcare project puts patients and relatives at the centre and therefore makes the highest demands of architecture, design and functionality.
Modern technology and comfort: Rigshospitalet in Copenhagen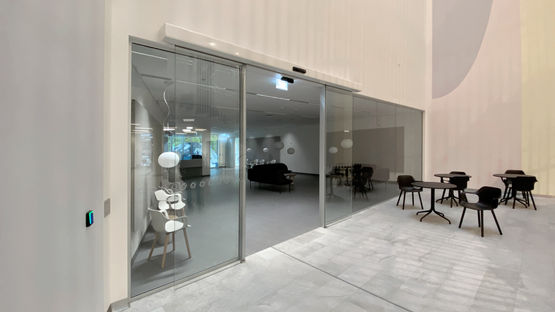 The EC drive fits discreetly into the automatic protective glass doors in the bright lounge area. © GEZE GmbH
Rigshospitalet has gained an approx. 55,000 m² extension that can handle the most advanced and specialised surgical operations in Denmark, and afterwards give patients and relatives the best possible treatment and care. The North Wing, which was officially opened in January 2020, is strategically important for Denmark's healthcare system – now and in the future.
Bringing specialist expertise together in one place makes it possible to offer patients and relatives both treatment and care of international standard in surroundings designed to handle extreme complexity. So far, 33 hi-tech operating rooms and 196 private rooms have been opened for use.
The North Wing's operating rooms are equipped with robots and large flat-panel displays, making diagnostics and treatment better and quicker. All patients have access to the Internet and their own medical records. Private rooms with space for relatives take care of patients' needs for privacy, discretion and rest.
Healing architecture – always focused on patients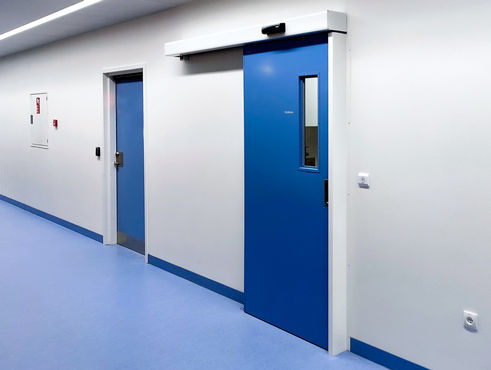 The ECdrive sliding door system with contactless proximity switches ensures hygienic access to operating theatres and patient rooms. © GEZE GmbH
The architecture and aesthetics play a major role in creating the best possible environment for the patients. Sound, inflow of light, colours, art and nature are elements that together create "healing architecture", i.e. an architecture that promotes the patients' mental well-being and reduces the stress of being hospitalised with a serious condition.
To ensure that each component, large or small, helps realise the vision for the North Wing, while maintaining the highest levels of hygiene, the standard for suppliers is high, in the construction phase.
Modern solutions and healing architecture
The North Wing is designed as a zig-zag with one central corridor and local "streets" in the clinical areas. This makes it easy and quick to get from A to B without passing through areas with patients. In addition, the part of the building is designed so that daylight reaches all areas, making the rooms light and airy. To avoid large rooms generating too much noise, the acoustics has also been important in the architectural design. In addition, the rooms are flexible, which means that a room can be altered without incurring major costs.
Deliverables for the North Wing, including a sterilisation centre, of 93,000 m², have now been added to the existing hospital area of 190,000 m². Welcome to the New North Wing!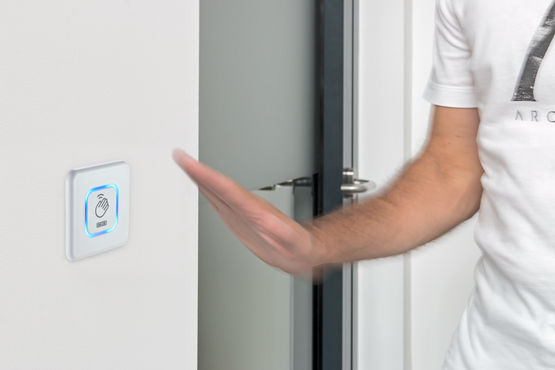 The GC 307+, a non-contact proximity switch © GEZE GmbH
Comfortable and hygienic automatic systems for more than 450 doors
The healing architecture, the high level of hygiene and the extreme requirements for functionality are also reflected in the automatic door systems chosen for the North Wing. The 33 doors to the operating rooms are hermetically sealed in order to keep the rooms sterile and bacteria-free.
The building is also equipped with around 140 automatic sliding doors and more than 300 automatic swing door drive. The doors open and close automatically without contact with the door handle. In terms of hygiene – particularly in the light of COVID-19 – non-contact automatic door systems are critical for reducing the risk of infection.
In addition, the automated solutions ensure that doors open and close very quietly. Out of consideration for the patients, noise from internal traffic in the North Wing must be kept to a minimum.
"We have extensive experience of cooperating with Danish hospitals, and the North Wing is our biggest individual hospital construction project to date. We started our collaboration with the contractor in 2015, and have had an Installation Technician working full-time on the project for several years.", said Poul Torndahl, Sales Engineer at GEZE Denmark.
It is a massive construction project with very well-thought-out architecture and unique design and functional requirements. This has made it incredibly exciting to be part of the project. We look forward to continuing our relationship as the service partner for the automated door systems in the North Wing.
Poul Torndahl, Sales Engineer at GEZE Dänemark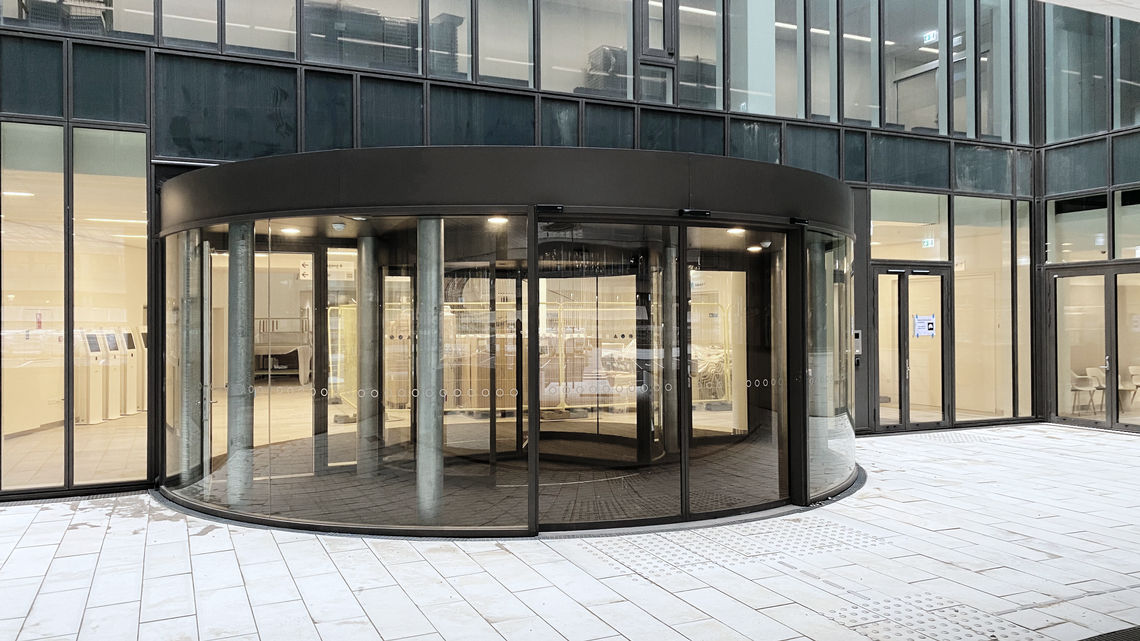 A curved double glass sliding door with Slimdrive SC is built into the smart glass panel in front of the revolving door at the patient entrance. © GEZE GmbH
GEZE's deliverables for the North Wing
33 automatic door systems for hermetically sealed doors to operating rooms.
More than 450 non-contact proximity switches for automatic doors (GC 307+ non-contact switches for activating automatic doors).
140 automatic systems for glass and steel sliding doors (Powerdrive for doors up to 2 x 200 kg and ECdrive for doors up to 2 x 100 kg).
300 automated systems for swing doors (Slimdrive EMD-F automatic door opener for one-leaf doors and Slimdrive EMD-F-IS automatic door opener for two-leaf doors).
A wide range of door closers for different types of doors.