Topics
Door dampers - gentle closing and opening of doors
An end to doors banging! Door dampers catch closing doors before the thud. They then - softly and silently - close them completely. Whether the movement was triggered manually, or due to the wind or airflow. Smart models ensure soft stopping in the direction of opening and keep doors held open.
Door convenience with draw-in damper
What can be done to stop doors banging loudly? How do they remain open, even when there is a draught? How can walls and furniture be protected from doors flying open, and fingers protected from doors banging shut? There are a few aids are available for these problems: these cover everything from wedges to floor mounted and wall mounted door stoppers. All of these usually do their job but are often ugly, annoying and impractical.
Door dampers perform a better function. They are often integrated into door closers in swing doors, which always automatically close doors after they have been opened. However these are often very loud despite the damping.
Damper models such as the types we see in boot lids, cupboards and kitchen drawers are therefore a more elegant solution for internal applications. When pushed, they are slowed by the draw-in damper just before closing and softly moved into end position.
Transferring this technology to doors means that they close slowly, quietly and automatically when they are opened only by a gap. In other conditions, they behave like a normal door. Whether consciously perceived or operated intuitively – draw-in dampers always give the feeling of comfort and high quality.
GEZE ActiveStop: door dampers for swing doors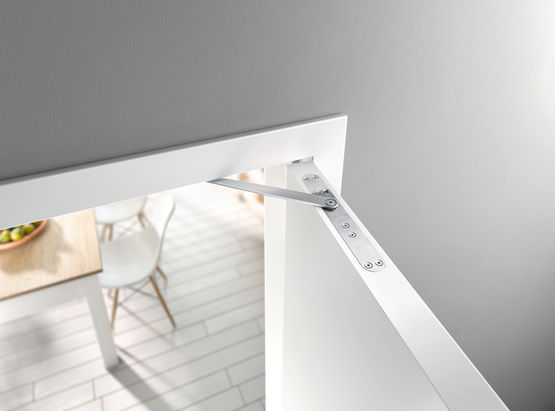 GEZE ActiveStop is almost invisible when integrated into the door leaf.
With the GEZE ActiveStop door damper, slamming room doors, trapped fingers and defects in doors or furniture are a thing of the past. They are able to softly stop and quietly close doors. This works in both directions: no matter whether you give the door a little shove or a powerful push – the door damper reliably and safely catches it in the direction of closing and the direction of opening.
Controlled opening and holding open for doors
When opening, the system moves the door independently and safely as far as the hold-open position, which can be individually set between 80 to 140 degrees, so the door cannot damage the walls or furniture. GEZE ActiveStop brakes the door at the right time and keeps it open safely in the required position.
This means that draughts that help with natural ventilation, for example, are no longer a problem. Doors remain open in the desired position and do not bang shut. Separate door stoppers or door hold-open devices are no longer necessary.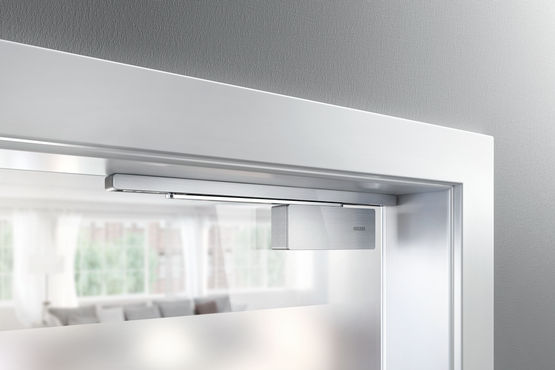 GEZE ActiveStop (variant fitted on the frame) © GEZE GmbH
Quiet closing after slowed movement
Doors run freely at between 25 and 60 degrees. When closing, the door is slowed down when it reaches around 25 degrees thanks to the active dampening. It then closes silently (soft close principle). GEZE ActiveStop therefore not only prevents the door from slamming loudly, but also prevents damage to the door and trapped fingers.
The GEZE ActiveStop is also suitable for use in doctor's practices, hotel rooms or hospitals (but not for use with fire protection doors).
The draw-in damping on both sides in the integrated variant can be installed in almost any standard, wooden door leaf, and is almost invisible - meeting the highest demands on design.
GEZE ActiveStop is available as a variant fitted on the leaf, and a variant fitted on the frame. It can easily be retrofitted on existing wooden or glass interior doors and be removed virtually without trace. This is a big advantage when used in rental properties, for example.
GEZE ActiveStop – advantages in the closing direction
door stays shut, no lock (lock case, latch, strike plate) necessary for internal application
no uncontrolled slamming of door (from draughts or carelessness)
no damage to frame, door leaf, etc. when slamming door
minimises the risk of trapped fingers
no development of noise
gentle, controlled slowing and retraction of the door when closing from 25 degrees, adjustable damping performance
GEZE ActiveStop – advantages in the opening direction
individual back check between 60 and 140 degrees
variable opening angle can be set between 80 and 140 degrees
protection of the leaf material, walls and other objects
comfortable for users (e.g. when carrying a large bag or a child)
no floor buffer or wall mounted door stopper necessary
Multiple award winning door comfort!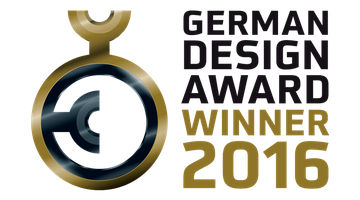 Logo German Design Award 2016
The GEZE ActiveStop door damper leaves plenty of room for great style and design, as recognised by numerous awards:
German Design Award
The integrated version of the GEZE ActiveStop, with an installation width of just 28 mm, is the winner of the German Design Award 2016 in the category 'Building and Elements'. The door damper was also awarded silver in the FocusOpen 2015 by the Design-Center Baden-Württemberg.

Logo Focus Open 2017
ICONIC AWARDS and Focus Open
At the ICONIC AWARDS 2018 Innovative Interior, the international jury of representatives from the areas of design, commerce and media recognised the GEZE ActiveStop door damper in the building equipment category. The "GEZE ActiveStop fitted on the frame"' door damper received the "Best of Best" award.
The GEZE ActiveStop received Silver for the Focus Open 2017 award for the variant fitted on the frame. The Baden-Württemberg Design Centre judging panel recognised the product as an innovative solution with exceptional design quality.
GEZE SoftStop for sliding doors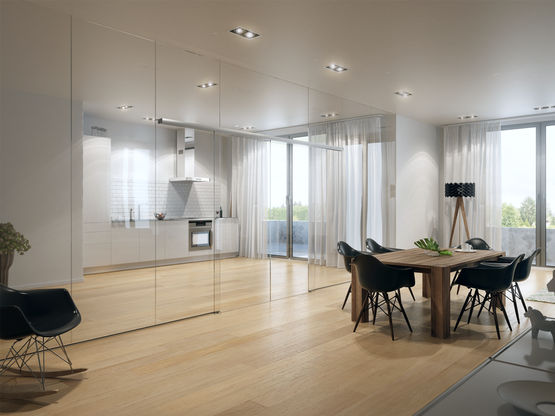 Draw-in damper for sliding doors: softly slowing down one or both sides. © Exorbitart / GEZE GmbH
GEZE SoftStop has been developed for manual sliding doors, for example in homes or offices. It gently slows the movement of the door before the end of the sliding movement. The door leaves are then guided automatically into the end position. There is therefore no impact on the frame or at the end stop, which protects material - and user's nerves! This means that the risk of entrapment is virtually eliminated.
GEZE SoftStops for manual sliding doors can be simply retrofitted on one or two sides. The technology fully disappears into the runner track, becoming an invisible aid.
Product features of GEZE SoftStop
suitable for the GEZE Rollan, Perlan and Levolan sliding systems
invisibly installed in the runner track
for light (up to 40 kg) to heavy sliding doors (up to 120 kg)
for glass, wooden, metal or plastic door leaves
can be used on one or two sides
can be integrated with no need for work on the leaves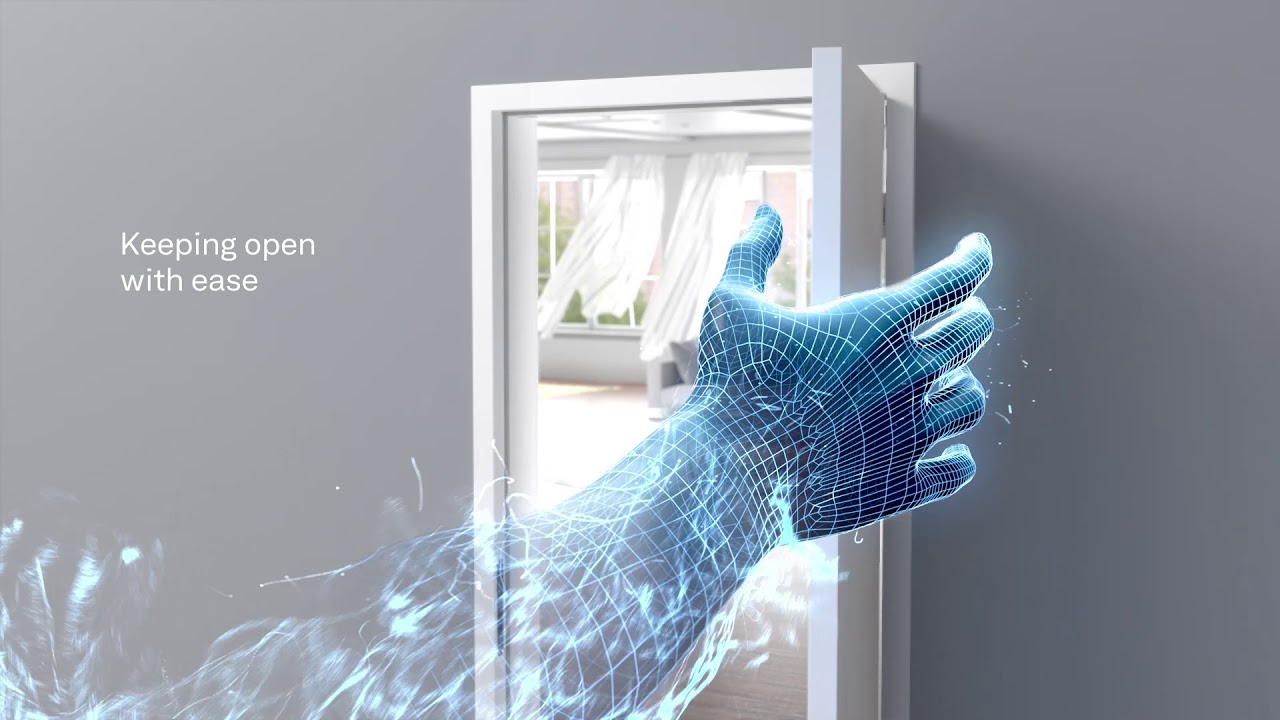 GEZE ActiveStop
Soft stopping process, quiet closing, variable stopping positions.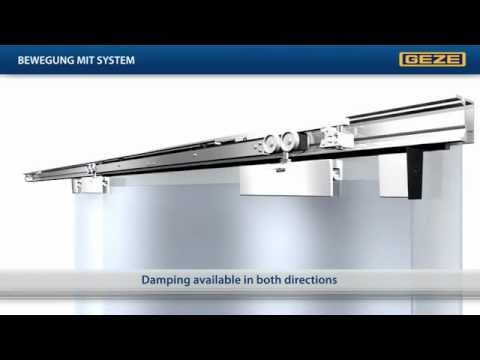 GEZE Perlan 140 with SoftStop
Soft retraction of sliding door leaves.
For the most discerning design demands
GEZE ActiveStop is almost invisible. The integrated door damper is noticeable only when it is doing its job. Its compact dimensions mean the door damper is virtually invisible, meeting the most discerning design demands.
Simple, quick installation
GEZE provides support for implementation with service aids.
Simple installation is guaranteed with the checklist for the GEZE ActiveStop door suitability test and the GEZE ActiveStop milling template.
GEZE ActiveStop can be mounted on wooden interior doors, whether rebated or flush mounted; optimal functionality is assured with up to a 45 kg leaf weight.
Variant fitted on the frame: for flexible retrofitting of glass and wooden doors, simple and quick to fit
Integrated variant: discrete integration into the door leaf at an installation depth of only 28 mm
Durable workmanship for maintenance-free operation
GEZE ActiveStop
can be individually adjusted: the distance that the door should open and the strength of the damping for opening and closing can be set according to needs and room conditions.
is consistently reliable: GEZE ActiveStop is created with sustainable and durable "made in Germany" workmanship. With great functionality and aesthetics and a high level of safety, door dampers offer the highest quality without compromise.
Low-maintenance: GEZE ActiveStop is designed for low-maintenance operation.