Revolving doors can improve building energy efficiency
Around a third of energy consumption in Germany is consumed by buildings. This means that this sector, in particular, has a high potential for savings, which building operators should take advantage of. Revolving doors can lower energy requirements for building heating or cooling. This reduces energy costs and improves the CO2 footprint. In an interview, our expert Thomas Lehnert explains where potential energy savings lie, what functions revolving doors play in entrance areas, and why the new Revo.PRIME from GEZE stands out not only visually, but also when it comes to sustainability and energy efficiency.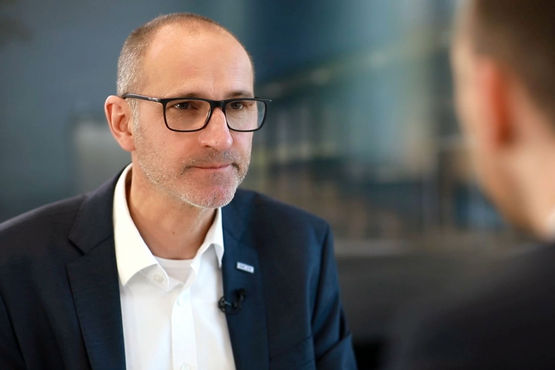 GEZE revolving door expert Thomas Lehnert. © GEZE GmbH
Energy prices are higher than ever before, and electricity and gas prices are digging deeper and deeper into consumers' pockets. At the same time, building operators are under pressure from the challenges of the energy revolution. Revolving doors can help save energy in entrance areas. What exactly are their advantages, compared to other entrance solutions?
Thomas Lehnert: The advantage of revolving doors is that they prevent draughts, while allowing a continuous flow of people to pass through. The brushes on the side-hung leaves remain in contact with the drum walls of the door at all times. This means the swing door is "always open, and always closed". Cold or warm draughts remain outside, and the conditioned air remains inside. Internal calculations have shown that revolving doors can reduce energy losses to outer areas by approximately 40 per cent. This reduces costs for operators and improves the indoor climate in entrance areas significantly, in particular with high numbers of users. With sliding doors, in contrast, energy would escape continuously through the opened doors with a large number of visitors.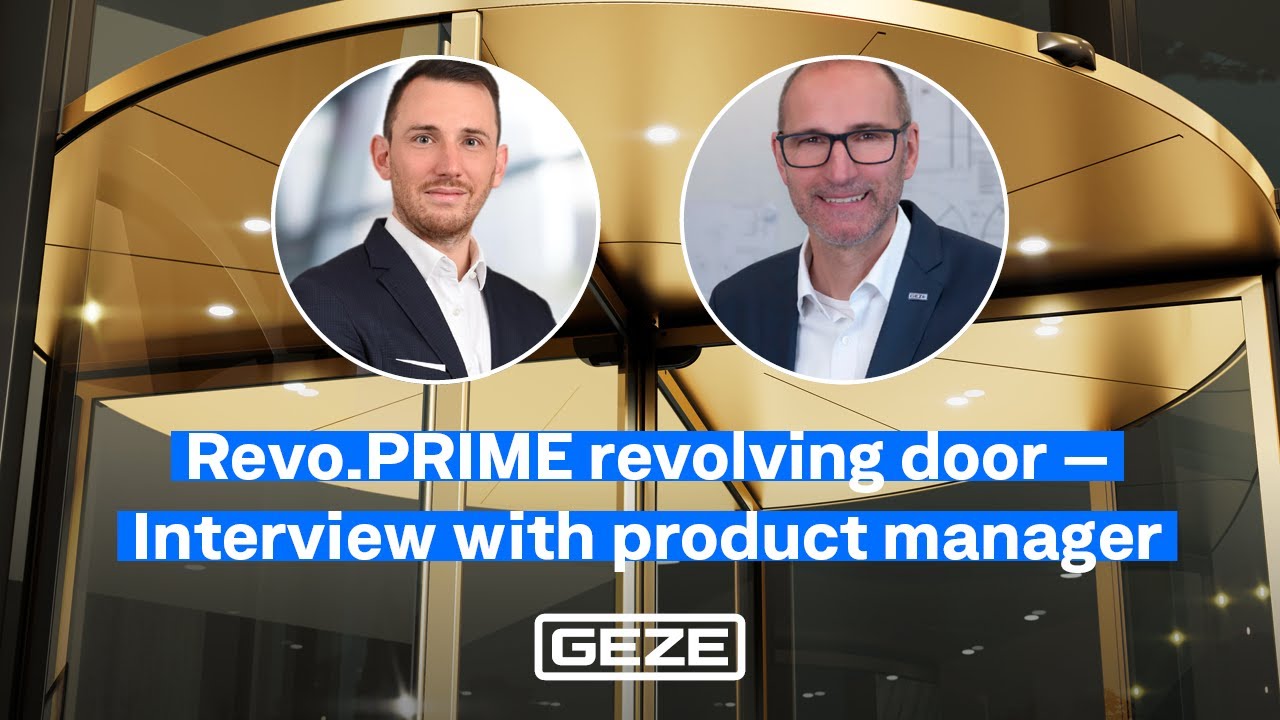 Draughts in entrances, in particular, can often be unpleasant. However, building entrance areas play an important role. What is the role of revolving doors in this respect?
Thomas Lehnert: The first expectation of customers is to see a prestigious entrance area with maximum transparency. This is an important aspect for owners, operators, and architects. The entrance area, after all, is always the showpiece of a building. Revolving doors significantly reduce the entry of draughts, noise, and dirt. This helps to create an entrance area with a comfortable indoor climate that is fully available as usable space – for example for reception rooms or a foyer. This clear spatial separation between the inner and outer area is another reason to use revolving doors.
The first expectation of customers is to see a prestigious entrance area with maximum transparency. Our new revolving door Revo.PRIME stands out in this respect with a canopy height of just 75mm and 60mm narrow profile systems.
Thomas Lehnert, Business Solutions Manager at GEZE
GEZE is now launching the Revo.PRIME as a new revolving door that not only stands out for its great look, but also underscores the issue of sustainability. What is new about this door?
Thomas Lehnert: Our goal was to create a product that allows for the maximum visual freedom, while at the same time fulfilling the need for sustainability and comfort with new technologies. The highlight of the Revo.PRIME is its very low canopy height of just 75 mm. This is the lowest canopy height for automated revolving doors on the market – with a maximum diameter of 3.80 m. Therefore, the system can now be used even in particularly narrow spaces, and has a sophisticated look that blends perfectly into the building architecture. It also has a very high maximum torque of 1000 nm. This delivers more power to move larger doors and thereby improve access convenience.
MORE INFORMATION ON THE NEW GEZE REVO.PRIME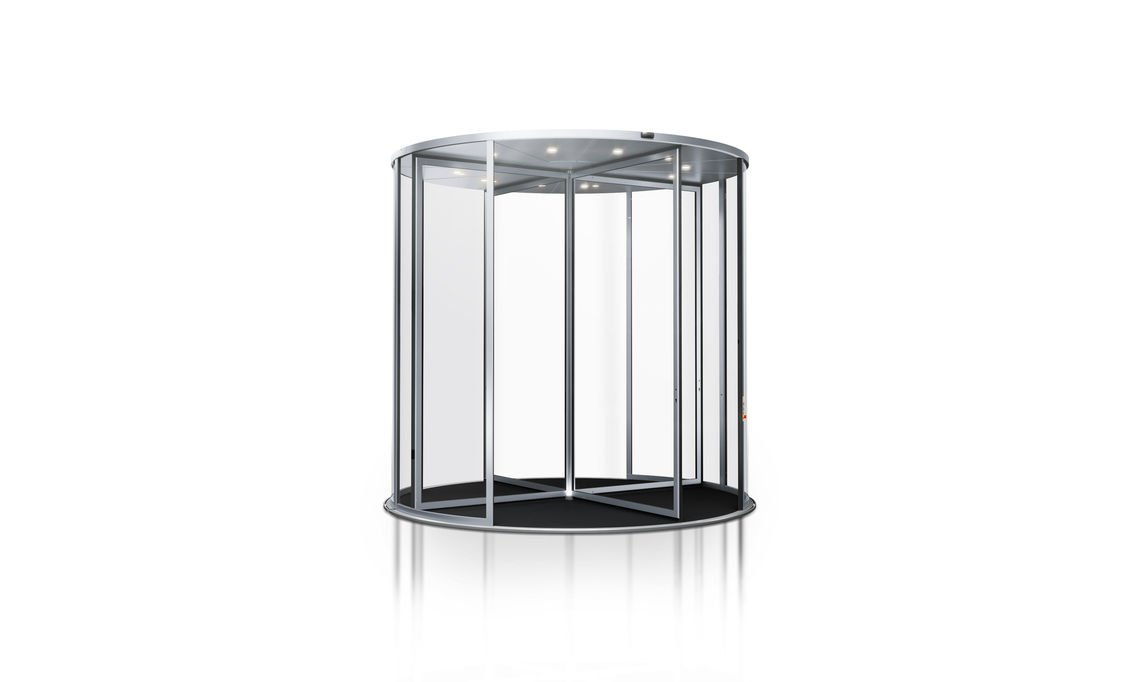 The new Revo.PRIME, with its low canopy height of just 75 mm, is optimal for larger doors and improved access convenience.
Does more power also mean higher energy consumption?
Thomas Lehnert: Quite the contrary: The Revo.PRIME requires 30 per cent less power than its predecessor, the TSA 325 NT, with improved performance. Specifically, the new brushless direct current motor only needs 128 watts of power. This efficiency, then, makes it possible to reduce energy costs.
Can you explain the technology used in more detail?
Thomas Lehnert: Some people might be familiar with brushless motors from cordless or other professional tools. We used this technology to ensure better access convenience. This also makes these doors much less maintenance-intensive. We also considered installers, and improved electrical safety. We now have 42 volts from a defined transfer point in the ceiling, instead of 230 volts. All drive components are equipped with plug connections, which makes assembly, commissioning, and maintenance much simpler. To put it a different way: This is truly a "plug&play" solution.
Our goal was to create a product that allows for the maximum visual freedom, while at the same time fulfilling the need for sustainability and comfort with new technologies.
Thomas Lehnert, Business Solutions Manager at GEZE
What features will be available?
Thomas Lehnert: With the Revo.PRIME, we are offering the same features as previously. In addition to the all-glass system as a design highlight, we also have the Breakout and RC2 variants in our product range. The doors can be operated manually or fully automatic. Of course, we can also take individual customer requests into consideration. We manufacture the doors to fit the project, both in terms of colour selection and materials. This means they can be planned to match any building type or façade.
When it comes to planning: How can the revolving door be integrated early on into building models?
Thomas Lehnert: A digital planning tool can be used for the Revo.PRIME. The corresponding BIM models are provided to architects and planners for the market launch. All building data is digitally modelled, combined, and recorded in BIM. We also support our customers in ongoing, detailed planning with an extensive network of experts and project consultants, both digitally and in person on site.
Mr. Lehnert, thank you very much for speaking with us!
Tips from a revolving door professional
What to consider when installing revolving doors:
Clarify the positioning of the revolving door, including questions like: Is the door placed correctly in the routes within the building? Should the door be turned in the façade? Would it perhaps be neater for the doors to be recessed more into the building?
Coordinate the interfaces between the revolving doors and the building early on– and clarify who is responsible for what, for instance for façade connections, connection / attachment to the building with the roof, etc.
Clarify preparations of the wiring, such as how the cables are routed to the revolving door and where the programme switch is placed with respect to the door.
What to consider in order to save energy in planning and operation:
Adjust the diameter and passage height to the expected use of the revolving door.
Ensure that the revolving door is adjusted correctly, meaning that the door stops directly after a person passes through it (no long time delay)
Use the night-time closer on the revolving door (at night, on the weekend, etc.)
Clean the entrance mat of the revolving door regularly
Of course, we recommend regular maintenance for revolving doors