GEZE Insights
#GEZEhack – individual masterpiece with GEZE Slimchain drive
Automatic window and door drives from GEZE impress not only on large-scale projects in hotels and hospitals, but also as individual solutions. This "masterpiece" from Jonas Wessler demonstrates just how versatile our products can be on DIY projects.
Masterful: Sideboard with soundbar and technical highlights
Jonas Wessler is training as a master carpenter. The masterpiece is an important part of his training. A lover of music and technology, Jonas Wessler quickly grasped: his masterpiece had to involve music – and with an innovative technical surprise.
The goal: a self-designed sideboard with integrated music system.
The clever thing about it: the soundbar can be extended as needed – by intelligent remote control from a mobile phone.
The challenge: soundbar and lift drive have to offer an impressively slim design and intelligent user convenience.
The solution: the Bose Soundbar 300, combined with the Slimchain chain drive and the Somfy Smart Home app.
In pursuit of a goal – from first draft to full technical solution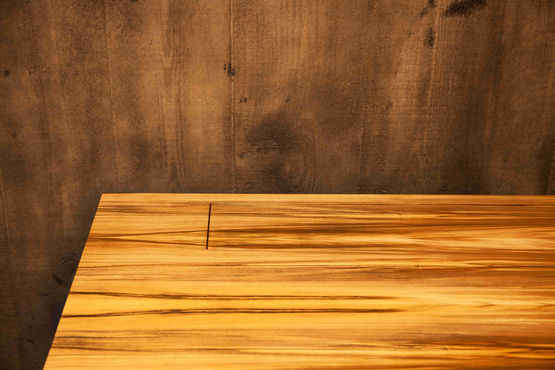 © Jonas Weßler / Weßler GmbH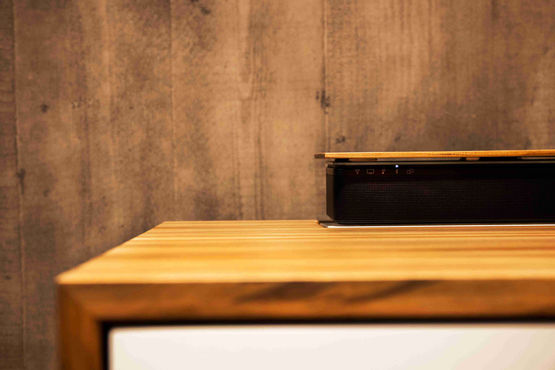 © Jonas Weßler / Weßler GmbH
Jonas Wessler explains how his movable electric music system, which he has integrated into his self-designed sideboard, came into being.
"When the first drafts of my sideboard were ready, I bought a Bose Soundbar 300 because its slim design fitted well into my overall concept. As the space requirement was minimal, I had to find a small and discreet motor."
The difficulty lay in finding a drive motor offering a slim design and quiet operation. It was here that Jonas Wessler's specialist background knowledge came into play:
"As the third generation in my family's business, which manufactures front doors for sale throughout Germany and also runs a regional timber store, I am very familiar with several professional products. This was the advantage for me: I bought a GEZE Slimchain chain drive, which is normally designed for opening a window, and which was easy to fit into my music sideboard due to its slim design. After several attempts and deliberations, I was able to move the soundbar electrically using this drive, exactly as I had imagined."
The idea of using the intelligent GEZE Slimchain window drive offered another advantage for the DIY project:
Next, I faced the problem of how to control the motor so that the soundbar could be retracted and extended by mobile phone. For this, I chose a Somfy Smart Home control. This allows me to use the Somfy app, which normally controls shutters, to now control the GEZE Slimchain drive.
Jonas Weßler
The result is impressive: when closed, the soundbar is invisible, so it's quite a highlight when the soundbar is extended via the GEZE drive and the Somfy app.
"Even today, I still find this solution impressive, as I can now use my mobile to extend the soundbar from the sideboard, and then connect to the soundbar via Bluetooth, before playing the music I want."
Impressive solution with intelligent user convenience
This intelligent solution impressed not only Jonas Wessler and his trainers: on 10 November 2018, he had the opportunity to present his "sideboard with sound" in Koblenz to a wide audience at the "Nacht der Technik" technology show. Trade fair visitor and Federal Minister Julia Klöckner also loved the solution.
So we ask the question: are there more GEZE customers out there using GEZE systems innovatively for their DIY projects? If that's you, or you know of someone, please drop us a line! We can't wait for you to share your #GEZEhacks with us!
Individual solutions from GEZE
Are you on the lookout for an innovative solution for a particular project? Let our experts advise you: we can find an individual solution for your project. For example, an automatic GEZE swing door drive offers convenience not only in hotels: used on a wood-burning stove door, it makes adding more wood much more convenient. Sounds good?
Find out more about the individual swing door solution from GEZE