GEZE ventilation and fire protection solutions meet stringent design and safety requirements at the Kvæsthusmolen underground car park in Copenhagen
Underground car parks need specific air supply solutions – providing fresh air both in conjunction with general ventilation and in the event of a fire and smoke build-up. GEZE Denmark developed customised ventilation solutions for the Kvæsthusmolen underground car park in Copenhagen. These solutions regulate the air supply throughout the entire facility and ensure that, in an emergency, enough fresh air is quickly transported to all areas, including the lower levels.
Kvæsthusmolen underground car park – modern design, convenience and safety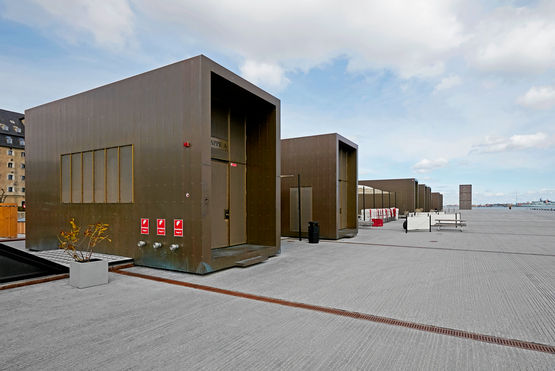 The stairwells leading down to the Kvæsthusmolen underground car park adorn the Ofelia Plads area of the pier. Specially designed electric chain drives from GEZE have been fitted to the windows.
Inner-city parking space is limited and often full to capacity, particularly in major cities. Overground parking facilities take up too much of the urban space and also impact on the cityscape. In Copenhagen, a three-storey underground car park with a total of 500 spaces has helped to combat this issue since it opened in June 2016. This car parking facility is operated by Jeudan, Denmark's largest listed real estate and service enterprise, and was designed by Lundgaard & Tranberg Arkitekter. It is located in the centre of the Danish capital, under an area of the remodelled Kvæsthus Pier known as Ofelia Plads. It is among the most modern facilities in Copenhagen and offers convenient quality, modern design and outstanding safety.
Chain drive with an attractive design: GEZE Slimchain ensures fresh air supply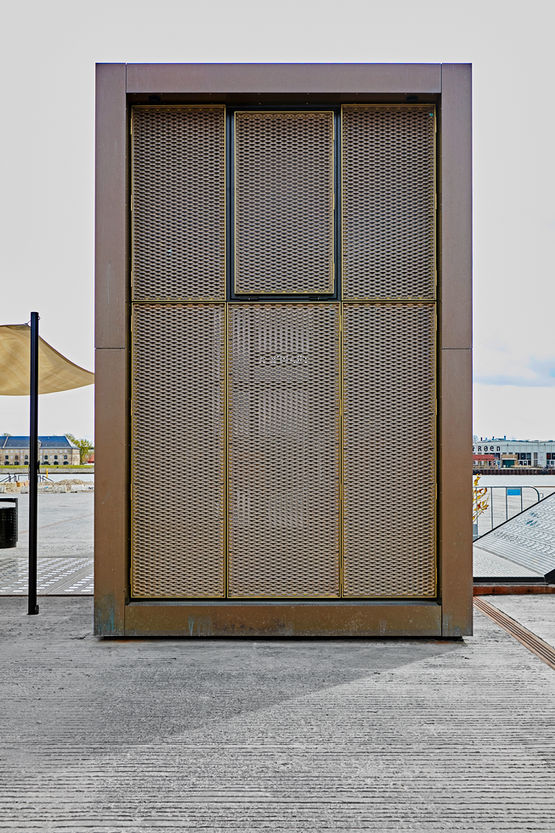 The stairwells' unique design disguises the windows.
Ensuring a supply of fresh air for everyday ventilation and rapid smoke extraction in the event of a fire is essential in modern buildings like the Kvæsthusmolen underground car park. Smoke and heat extraction (SHE) systems are a legal requirement for many buildings. Ventilation systems for underground facilities require particularly careful consideration and intelligent integration. For this reason, GEZE Denmark was involved in the planning process from the outset alongside the architectural office Lundgaard & Tranberg.
Visitors can access the escalators via the rust-brown cubes at ground level above the parking complex. Electric Slimchain chain drives painted black have been fitted vertically to side-hung windows and ensure both efficient ventilation and effective smoke extraction. As a result, these chain drives fulfil stringent requirements in relation to both function and aesthetics. The GEZE Product Management team at the company's headquarters in Leonberg, Germany, also helped to develop this special solution.
GEZE provided great support throughout the project, both to the architects and builders and, of course, to us. They helped to make sure that optimised processes were in place and showed considerable flexibility on a project subject to stringent requirements in respect of design and functionality.
Martin Steen, Project Manager at Jeudan
Electric door drives provide fresh air when smoke forms or temperatures rise
The second GEZE solution installed at the facility comprises a special enclosure for the entrance area and six hinged double-glazed doors. The glazed doors shield the entrance to the escalators against rain and snow. Equipped with the GEZE Slimdrive EMD Invers, these doors automatically open within seconds in the event of a fire or smoke alarm and remain open until the fire alarm is manually deactivated. The door automation systems and the turbines installed in the lower storeys interact to ensure that any smoke is quickly removed. The special ventilation solutions ensure that plenty of replacement air reaches the lower levels, ensuring ventilation in everyday operation and in the event of a fire and smoke build-up.
GEZE solutions for smoke and heat extraction (SHE)
In the event of a fire or smoke build-up, removing toxic smoke gases from the affected building is crucial. GEZE offers smart smoke and heat extraction solutions that interact flawlessly:
Electrical opening systems for windows and doors, including chain and spindle drives
Locking drives for added safety for large SHE or ventilation windows
Opening/locking systems made up of an electric spindle drive and a mechanical fitting set
Air supply systems to provide the necessary cross-ventilation in the event of a fire
GEZE emergency power supply unit for all SHE components
Interface modules to facilitate smart networking
Additional accessories such as buttons and sensors
Ofelia Plads and the underground car park are a showcase project and a lot of money was invested in their design. We therefore needed a customised glazed enclosure. GEZE provided expert advice and quickly developed solutions with automated ventilation that matched the building's design and colour. In addition, the solutions meet in full the high safety requirements and standards new buildings must fulfil in relation to smoke and fire protection.
Martin Steen, Project Manager at Jeudan
At a glance: GEZE solutions at the Kvæsthusmolen underground car park in Copenhagen
GEZE RWA K 600 F: Retractable arm drive for installation on windows
GEZE Slimchain: Electromechanical chain drive
GEZE Slimdrive EMD Invers: Electromechanical swing door system for single-leaf smoke & heat extraction and ventilation opening systems
GEZE MBZ 300 N24: Emergency power supply unit for smoke and heat extraction drives