GEZE door systems at Furla's new headquarters
Furla, a company of long-standing tradition, has built its new headquarters in idyllic surroundings in Tuscany. The site is the new home of the company's Production and Creative departments. A particular priority on this project was ensuring that the architecture blends as harmoniously as possible with the untouched landscape around the site while also keeping the industrial impact on the region to a minimum in an effort to improve sustainability. In the aesthetically pleasing entrance to the building complex, Furla relies on convenient door systems supplied by GEZE.
Timeless Italian handbags and accessories: Furla
The fashion company Furla was founded in 1927 by Roman Furlanetto in the Italian city of Bologna and remains in majority family ownership to this day. Furla is known above all for its premium-quality Italian handbags at affordable prices. Its products stand out due to their timeless design. The company's new headquarters and production facility are situated in Tavarnelle Val di Pesa, around 30km south of Florence. The modern building complex impresses with its triumphant combination of modern industrial architecture and the romantic Italian landscape.
Security and convenience for employees in the reception area – thanks in part to GEZE
The hub of the site is the Piazza Furla, which is the first area that visitors and employees pass through and leads on to the reception area. Its design is reminiscent of the entrance to a Tuscan villa, with cypress trees lining this path to the doors to reception. Around 150 people pass through the building on a daily basis. So, in addition to a welcoming character, hygiene and security are also essential in this area.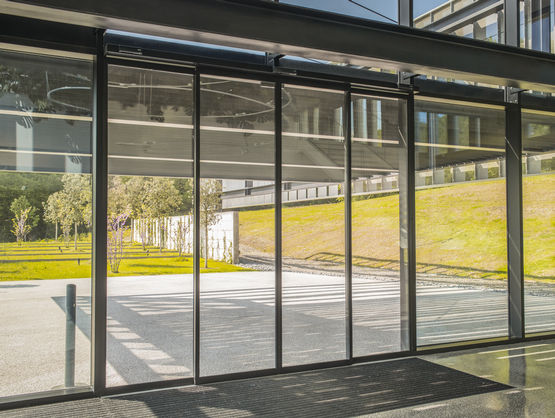 With its low installation height of only 7 cm, the Slimdrive SL NT in black fits perfectly into the minimalist design concept of the building. © Alberto Violante / GEZE GmbH
Smart door system for security and hygiene
The entrance doors have to meet one special requirement, namely withstanding the often gusty conditions in the Chianti hills. In addition, they need to operate hygienically and conveniently. The Slimdrive SL NT sliding door system with ISO glass profile system was identified as the ideal solution, with the company opting for the double-leaf variant. Finished in RAL 9005 Black and with a minimal installation height of just 7cm, the robust yet near-invisible system blends effortlessly into the building's minimalist design concept.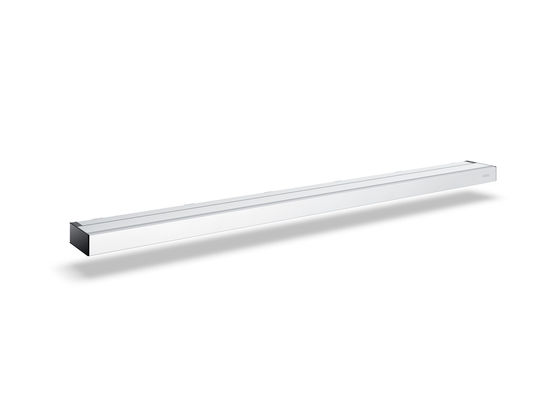 The smooth-running and low-wear DC drive of the Slimdrive SL NT ensures low maintenance. © GEZE GmbH
Easy integration and secure operation
Our Slimdrive SL NT blends in discreetly with a building's architecture – but that's not all. Thanks to its CAN bus connection, the door system can also be easily integrated into building management systems. An integrated battery provides added safety and guarantees emergency opening, such as in the event of a power failure.
Speaking of safety, various mechanical and electrical locking systems are available for the GEZE Slimdrive to provide added protection against break-ins.

Low wear and minimal maintenance
The Slimdrive SL NT sliding door drive is an ultra-smooth, low-wear DC drive system. If an error occurs in operation, it independently detects and logs the issue so that it can be swiftly rectified. The maintenance requirements are also significantly reduced by the self-cleaning roller carriage. This cuts costs while also contributing to sustainability.
Energy efficiency thanks to GEZE door systems
Automatic doors like the Slimdrive SL NT improve hygiene in high-traffic building entrances – but that's not all. Doors that open and close automatically and reliably improve a building's energy efficiency and thereby also make a significant contribution to its overall sustainability. When integrated into a well-designed building automation system, they provide an exceptional degree of convenience, security and energy efficiency.
Sustainable building: Furla awarded recognition
Furla has made reducing its environmental impact a top priority. Its new building complex has been developed to minimise the impact of industrial activities on the surrounding region. And, in terms of product development, Furla is always striving to find innovative, sustainable production solutions.
In late May 2022, Furla announced that its new headquarters have received ISO certification for its environmental management system. To obtain this certification, companies must draw up an environmental policy, define environmental targets, set out an environmental programme and implement a corresponding management system to help it achieve its targets.
Furla headquarters in figures:
- Project name: Furla – Nuovo stabilimento
- Location: Tavarnelle Val di Pesa (FI)
- Architect: GEZA Architettura, Udine
- Partner: PICHLER Projects
- Industry: Retail
- Site area: 43,000 sqm