Case studies
GEZE revolving doors: Door technology for the University of the Future
With stringent demands in terms of design, comfort, and functionality, the new City of Glasgow College is considered a 'University of the Future'. GEZE UK made a key contribution to the modern look & feel of the technical college with custom door solutions, including revolving doors and swing doors.
State-of-the-art door systems for the City of Glasgow College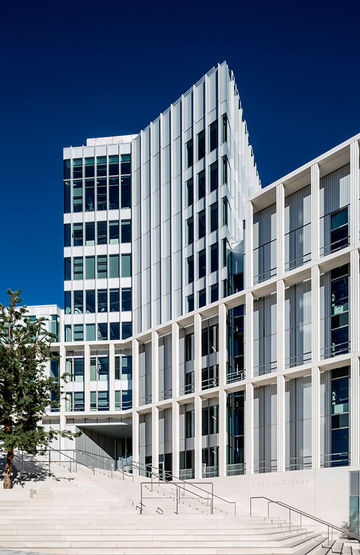 Modern architecture with demanding functionality expectations: the City of Glasgow College.
The £228 million project for a capacity of 40,000 students and 1,300 employees was completed by the Sir Robert McAlpine construction company. The entrance areas on the west and south sides were designed using GEZE door technology to reflect the structural aesthetic of the City Campus.
The highly modern new building, with over 1,000 classrooms, boasts a striking design while fulfilling high requirements for functionality and safety.
Manual revolving doors ensure the flow of traffic
The west and south wings impress with modern steel and glass façades with two manual revolving doors. An additional automatic swing door was installed directly beside each of the revolving doors.
Manual revolving doors with TSA 325 NT door drives are the ideal solution for the building's specific requirements in terms of functionality and ease of access. The generous door leaves are easy to move, and the integrated control mechanism stops pushing behind an individual entering into the swing door. In addition, the revolving doors effectively protect the lobby from draughts, dust and noise.
Automatic swing doors, designed as emergency exits
The automatic swing doors directly besides the revolving doors were equipped with electro-mechanical GEZE Slimdrive EMD-F swing door drives to offer maximum flexibility. They can be activated with the push of a button, providing barrier-free access for persons with restricted mobility. The door drive is just 7 cm tall, and integrates discreetly into the door frame to move the door leaf precisely, reliably, and extremely quietly. In the event of a fire, the swing doors also serve as barrier-free emergency exit doors.
Using GEZE products in such a dynamic and architecturally pioneering design institute is a true sign of the architects' trust in our solutions. The City of Glasgow College offers outstanding opportunities for both students and teaching staff, and we are thrilled that our solutions are a part of it.
Kaz Spiewakowski, Managing Director GEZE UK
Automatic sliding doors: effortless door comfort

Barrier-free ease of access: Automatic swing doors can be activated by a push button.
A single leaf automatic sliding door with GEZE Slimdrive SL NT drive guides students and visitors into the interior of the Riverside campus. The highly modern building, which was nominated for the prestigious Stirling Prize, houses student accommodation hat is home to over 3,000 ship building and marine technology students.
The slim Slimdrive SL NT drives (just 7 cm tall) integrate almost invisibly into the modern, column-encased entrance area, moving door leaves of up to 125 kg quietly and effortlessly. This makes it the ideal drive solution for a public building with consistently high traffic in both directions – especially one such as Riverside that is also used as a residential building. GEZE's modern door solutions have played a key part in ensuring students can move comfortably and safely through their environment.
GEZE products in the City of Glasgow College
TSA 325 NT manual revolving door
Slimdrive EMD-F drive system for swing doors
Slimdrive SL NT automatic sliding door system