Case studies
Preventive fire protection at the Vienna West train station – with technology by GEZE
The BahnhofCity Wien West is much more than a barrier-free railway station, it also houses a hotel, a shopping centre, and an office building. Innovative door systems by GEZE provide excellent comfort, access for all, and preventive fire protection in all areas. With their sleek design, they integrate perfectly into the building architecture.
State-of-the-art architecture and technology at the barrier-free CityBahnhof West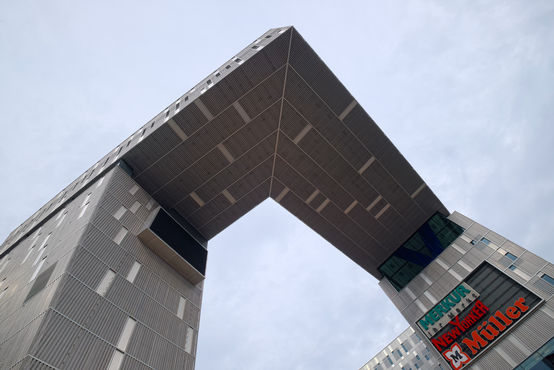 View of the Vienna West train station with the famous 'Wolkenspange' architectural feature. © Shutterstock.com
Since its modernisation, the Vienna West train station has been identified by the 'Wolkenspange'. This architectural statement by Viennese architects Neumann & Steiner weighs over 430 tonnes, and spans the large and bright renovated station concourse. Today, Railjets arrive where the legendary Orient Express once stopped on its route from Paris to Istanbul. Vienna West railway station is today a hub for regional connections, with a traffic management system and travel comfort continually upgraded to ensure it is a barrier-free station.
Excellent comfort thanks to automatic door systems
Around 30 automatic sliding doors with drives from the Slimdrive range by GEZE are in use in the modern Viennese travel complex.
Whether façade doors in the wide and high entrances to the station concourse and onto the retail levels, to the hotel or into the office block, Slimdrive sliding door systems harmonise the visual reduction. At just seven centimetres tall, the drive systems integrate discreetly into the façade and interior areas.
Barrier-free railway stations with 'intelligent' door systems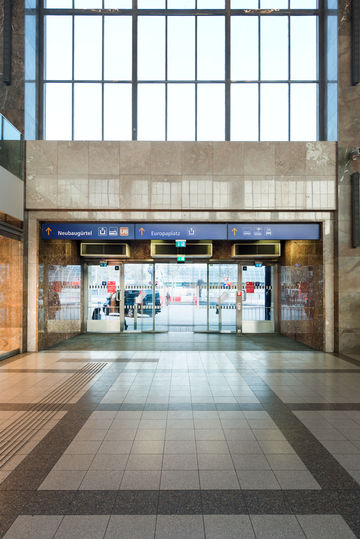 Entrance doors to the Vienna West train station with GEZE door systems. © Sigrid Rauchdobler / GEZE GmbH
Generous passage clearance, slim door profiles and Slimdrive SL NT-FR sliding door systems in the emergency exit design ensure barrier-free ease of access, emergency exit protection, brightness and transparency. Where door opening widths are more restricted on an escape route, maximum possible opening widths were achieved by using 4-leaf automatic telescopic doors with Slimdrive SLT -FR drive variants. The 'stacking' of the door leaves is not a problem with this solution.
The subtle Slimdrive drive units conceal modern, intelligent control technology. The quiet, high-performance drives go virtually undetected and are well equipped to handle r large volumes of traffic. The hold-open time adapts itself to the frequency of use. If the stream of visitors increases, the door leaves are automatically kept open for longer. The acceleration, hold-open time and opening and closing speeds can be set individually on these intelligent door systems.
Forward-thinking: door systems can be integrated into the building management system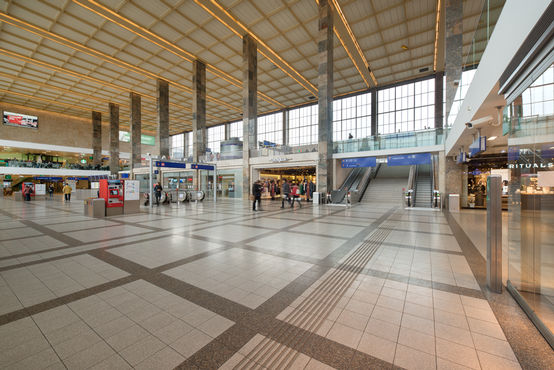 The large concourse at the Vienna West train station. © Sigrid Rauchdobler / GEZE GmbH
The control of the Slimdrive and TSA drives makes the doors future-proof, which enables system integration in the building management system. Door functions can, for instance, be monitored or changed remotely, thus improving the efficiency of building operations.
Needs-based combinations: Swing door drive and door closer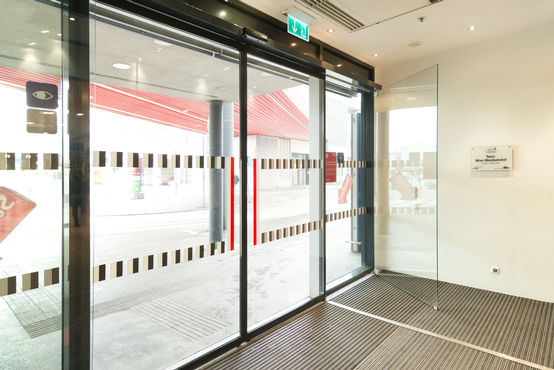 GEZE door systems for universal access and preventive fire protection. © Sigrid Rauchdobler / GEZE GmbH
The combination of door drives and door closers is an optimal solution for double leaf, large and heavy doors in the office complex. Despite using different technology, both door leaves share the same sleek drive design. The active leaf is fitted with a TSA 160 NT F-IS swing door drive, and the passive leaf with a manual TS 5000 door closer, because it is opened only when necessary. The drive housing also contains the closing sequence control required for fire protection doors. It guarantees that both fire protection door leaves are correctly closed again in a controlled way following access, e.g. by people fleeing in the event of danger.
Flexible and comfortable shopping – with manual sliding wall systems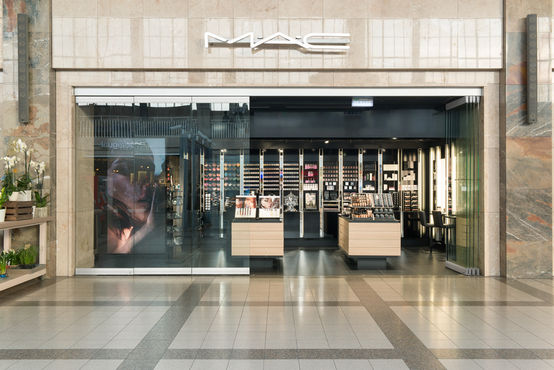 Manual sliding wall systems (MSW) by GEZE in the shopping mall at the BahnhofCity Wien West. © Sigrid Rauchdobler / GEZE GmbH
Manual sliding wall systems (MSW) are key in creating an inviting and open atmosphere in shopping malls. Shops and outdoor spaces merge to allow barrier-free access. To open the manual sliding wall system, the glass elements are simply inserted in to the lateral stacking area – a practical and space-saving solution. Precision ball bearings in the roller carriage ensure that the large glass leaves run smoothly and quietly. This is possible due to the combination of optimal curve technology in the rail branches and bends, as well as guided roller carriages which move the glass elements easily and safely. This means hardly any force is needed to insert the elements into the stacking area.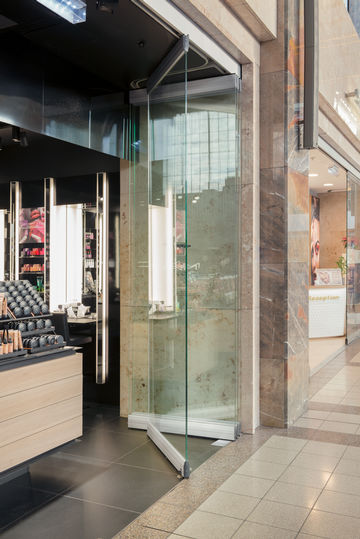 MSW door systems by GEZE in the shopping mall at the BahnhofCity Wien West. © Sigrid Rauchdobler / GEZE GmbH
System elements with various GEZE manual sliding wall system functions enable a large number of combinations for every installation situation. At the Vienna West railway station, the design with left and right-hand stacking areas allows the shop front to be partially opened - particularly advantageous when the weather turns cold.
This means people can leave a shop when the manual sliding wall system is closed, thanks to a double-action door with a floor spring which is positioned in the stacking area, and forms a secure fastener for the moveable glass partitioning wall.
Door closer technology by GEZE for preventive fire protection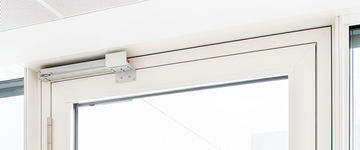 Detailed view of window with smoke and heat extraction system relief pressure damper with K 600 T retractable arm drive. © Jürgen Pollak / GEZE GmbH
There are more than one hundred manual single and double-leaf doors from the GEZE door closer range in the entire Vienna railway station complex. They ensure the safe and reliable closing of fire protection doors that must be kept closed and monitored at all times, or at least in the event of a fire. Door closer systems ensure controlled natural smoke and gas ventilation in the event of fire, and safe closure in normal mode. K 600 retractable arm drives, in combination with TS 5000 door closers, serve as fresh air or air vent openings. In the event of fire, the doors are automatically pushed open, and kept wide open so that fresh air can be supplied, and smoke and heat can escape.
GEZE door systems for comfort and preventive fire protection at the Vienna West railway station:
Automatic sliding and swing door systems ensure excellent ease of access and safety for travellers, and reliability during high-traffic periods. In addition, intelligent door systems can be integrated into the building management system.
Manual sliding wall systems (MSW) provide an inviting and open shopping atmosphere, as well as flexibility and comfort.
Versatile door closer systems on manual doors and fire protection doors support preventive fire protection.