Case studies
GEZE door systems offer increased living comfort for the elderly
In 2009, a state-of-the-art institute for supported independent living was opened in the form of the Stuttgart-Killesberg Augustinum. GEZE door systems and safety technology fulfil the Augustinum's stringent demands in terms of accessibility and preventive fire protection, and blend harmoniously with its architecture.
The Augustinum retirement home in figures
The Stuttgart architectural firm Wulf und Partner designed this spacious building complex to be bright and transparent with clear shapes and using high-quality materials.
Opened in 2009
Complex with four twin towers with six and seven storeys
Total usable surface area 35,000 m²
290 apartments with a total surface area of 23,000 m²
16,000 m² of outdoor facilities (park area, former exhibition grounds)
Accessible contemporary design for interior and exterior doors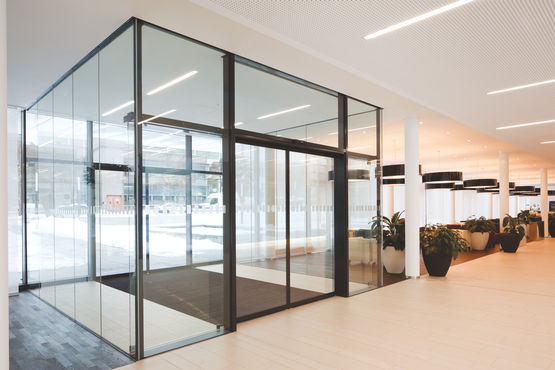 Automatic designer glass sliding doors with GEZE Slimdrive SL NT drive
A spacious vestibule with automatic, accessible designer glass sliding doors emphasises the inviting, transparent atmosphere in the entrance area of the Augustinum, and provides a view of the foyer and the adjacent main passageway. The automatic sliding door systems are moved by efficient GEZE Slimdrive SL NT drives, with a sleek 70 mm appearance which fits extremely discreetly into the glass façade design.
Flexible functionality thanks to GEZE Slimdrive EMD
In the corridor from the main passageway to the outdoor facilities, automatic façade swing doors with Slimdrive EMD drive versions enable accessible, almost silent ease of access. Thanks to the 70 mm design and guide rail technology, the Slimdrive EMD drive is especially suitable for slim door profiles and restricted spaces. The door systems impress with their flexible functionality,
Automatic activation via movement detectors or via the push button
Push&Go function for automatic opening by briefly touching the door leaf
'Servo mode' for manual opening - the activation sensor detects a hand approaching and starts the opening motor
Long hold-open times for door leaves via the programme selection switch
Individually adjustable parameters such as opening and closing speed, latching action, obstacle detection or hold-open time
Providing secure ease of access to the restaurant and lounge area
The route to the restaurant passes through two double-leaf glass swing doors with well-proven TSA swing door drives in the TSA 160 NT-F-IS and NT-F-IS/TS fire safety versions. The door systems open fully automatically, thanks to integrated movement detectors. The active leaf is fitted with an automatic function, the passive leaf has a door closing function and a hold open setting. Both leaves can also be kept in the open position for long periods via a programme switch.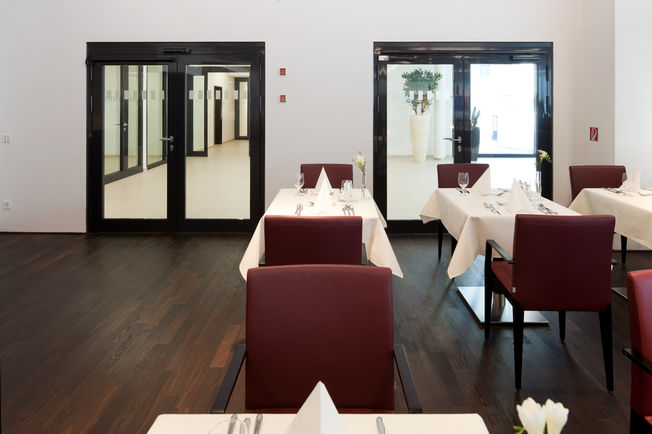 Entrance to the restaurant
Automatic double-leaf glass doors in fire and smoke protection design © Dirk Wilhelmy / GEZE GmbH

Glazed façade door
Automatic swing door with Slimdrive EMD drive: Barrier-free access to the outdoor facilities
Automatic swing doors with integrated smoke switch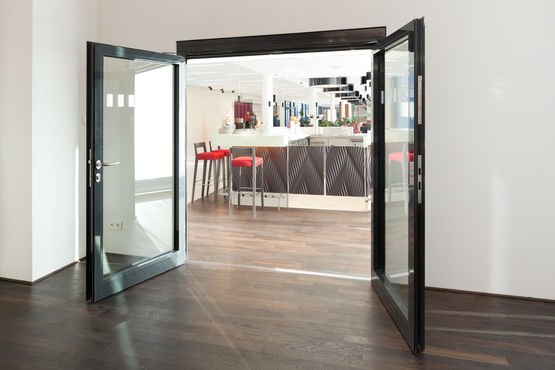 Barrier-free access: The double-leaf door systems can be held-open individually
Three spacious double-leaf swing doors with TS 5000 R-ISM door closer systems and hold-open systems also offer universal access to the restaurant from the bar/lounge area. The door leaves can be individually held open between 80-130 degrees for running operation, and the hold-open position can be overridden at any time to guarantee full opening in the event of danger.
As they are emergency exit and fire section doors, the swing doors are also fitted with an integrated smoke switch.. In the event of a fire, this triggers an electromechanical hold-open device, so that the door automatically closes and smoke and fire cannot spread.
The integrated closing sequence control ensures that both door leaves close again without fail – for instance once people who are escaping have passed through them – so that the door can once again fulfil its function as a fire protection door. All 123 corridor end and stairwell doors in the residential complex are also secured with TS 5000 R or TS 5000 R-ISM door closers.
Sophisticated door and safety technology in all areas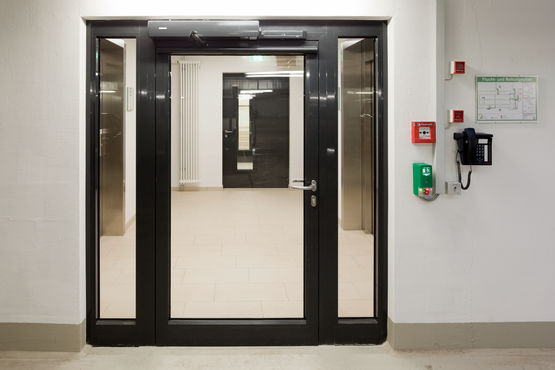 Underground car park access: Door system with access controls and fire safety function © Dirk Wilhelmy / GEZE GmbH
Residents, visitors and staff have universal access to the various areas of the building and residential towers via the underground car park and lifts in the staircase cores.
To meet the combined requirements of access control and the safeguarding of escape and rescue routes, automatic swing doors with the TSA 160 NT-F and TSA 160 NT-F-IS/TS drive versions have been used in these areas, and connected to the new TZ 320 door control unit by GEZE. This systemic safety solution allows authorised persons access, yet opens the escape and rescue routes for everyone via the red emergency light button in the event of danger.
The building manager can view and individually control all secured emergency exit doors at any time via the central SecuLogic TE 220 control panel in the reception area.
Centrally controlled RWA: Safe escape and rescue routes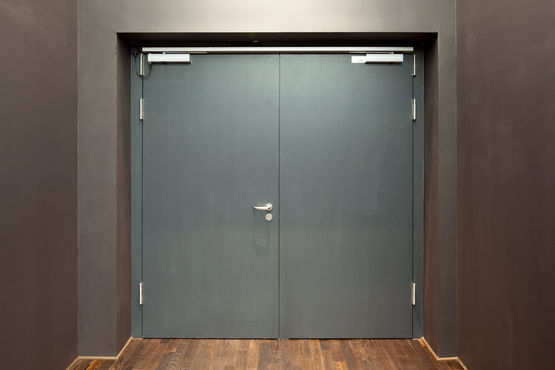 Access to the large theatre: Double-leaf swing doors with free swing function © Dirk Wilhelmy / GEZE GmbH
The top priority in the event of a fire is the safe evacuation of everyone concerned, and that means preventing smoke from spreading into escape and rescue routes.
In the Augustinum, this is achieved with a carefully considered smoke and heat extraction system (RWA), with motor driven louvre windows as opening elements. With its effective pulling power, the RWA guarantees reliable smoke extraction for the main passageway and restaurant - while also acting as a ventilator in daily operation.
The MBZ 300 RWA bus control unit by GEZE acts as the central RWA control unit - it guarantees daily ventilation as well as co-ordinating and monitoring all the connected components in the event of a fire.
Free swing doors: Accessibility plus fire protection
Swing doors with a free swing function ensure barrier-free access to the Augustinum's large theatre. Double-leaf swing doors with 5000 R-ISM EFS door closers and additional free swing function enable the active leaf to move with little effort when opening and closing once the door has been opened to around 90 degrees.
The single-leaf wooden doors to the sensitive waste storage areas have also been equipped with TS 5000 RFS door closers with free swing function, making. it easier to pass through the door with rubbish bags or transport trolleys. The door also acts as a fire protection door which self-closes in the event of a fire.
Modular glass sliding walls offer flexible usage of space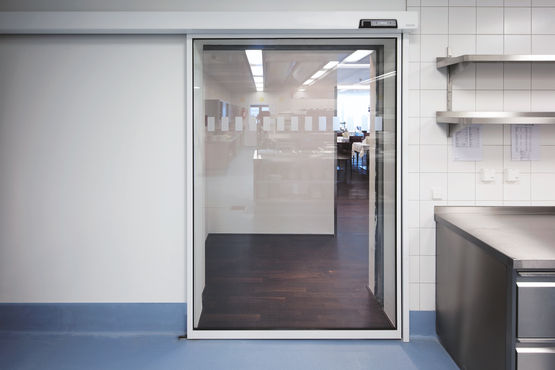 Kitchen area: Automatic linear sliding door with ECdrive door drive © Dirk Wilhelmy / GEZE GmbH
The ground-floor kiosk, with its mobile glass sliding walls, fits perfectly into the contemporary design of the Augustinum. Six glass elements and a side-hung leaf with floor-mounted door closer create a shop front measuring almost 7 metres. Each sliding glass wall can be moved quickly and with minimal effort, via a forcibly activated curve system on the track.
The floor locking devices supplied can easily be operated by foot. If the glass sliding wall system is closed, the kiosk can be entered via an optional swing door.
GEZE products in the Augustinum
GEZE Slimdrive SL NT drive
GEZE Slimdrive EMD
TS 5000 R-ISM door closer systems
TS 5000 R door closer systems
TZ 320 door control unit
TE 220 tableau unit
MBZ300 RWA BUS control unit
TS 5000 R-ISM EFS door closer
Automatic linear sliding door with ECdrive door drive