Fire protection in Magdeburg Cathedral – with GEZE's wireless solutions for hold-open systems
Magdeburg's imposing cathedral is an important city landmark and a popular destination for visitors from far and wide. In a building that is so historically important and versatile, a comprehensive approach must include modern ease of access, fire protection and monument protection. Integrating these factors in existing structures subject to heritage protection is a real challenge. GEZE's hold-open systems, wireless extensions and wireless smoke detectors ideally address these challenges.
Fire protection in Magdeburg Cathedral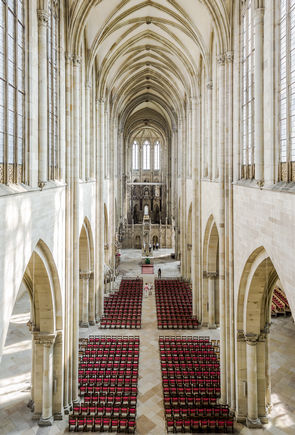 Interior view of the Magdeburg Cathedral
Protected historical architecture requires special fire protection measures. © Stefan Dauth / GEZE GmbH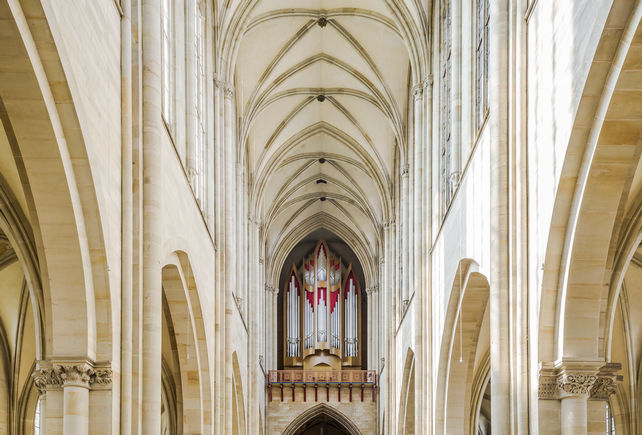 Interior view of the Magdeburg Cathedral
Protected historical architecture requires special fire protection measures. © Stefan Dauth / GEZE GmbH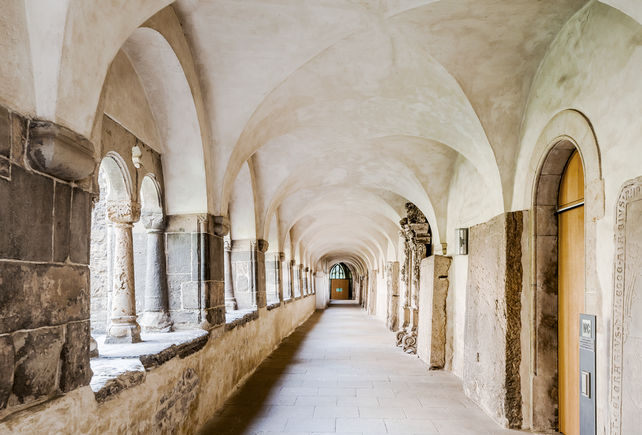 Interior view of the Magdeburg Cathedral
Protected historical architecture requires special fire protection measures. © Stefan Dauth / GEZE GmbH
Modern fire protection measures and monument protection in a historic building
As the tragic fire at Notre Dame has shown, modern fire protection is extremely important in a building as historically valuable and frequently visited as Magdeburg Cathedral. At the same time, building work on historical monuments must adhere to the applicable monument protection regulations when using fire protection doors to set up fire sections and installing additional smoke alarm systems. What's more, there should be as little interference as possible in the architecture and structure of protected historical buildings.
The modernisation and fire protection measures commissioned by the Foundation for Cathedrals and Castles in Saxony-Anhalt (Stiftung Dome und Schlösser in Sachsen-Anhalt) were planned by Sußmann + Sußmann AR Magdeburg and constructed by Tischlerei Wagner, whilst the hold-open systems were installed and approved by Kötter & Siefker Bernburg.
When modifying existing buildings, it is hard to think of everything, especially when the old plans do not show all the details. The ceilings and walls of the protected cathedral had to remain untouched. Wireless solutions were needed to save on work and costs. In addition, alternative, unapproved expansion solutions were to be avoided. GEZE's secure, certified and complete system allowed it to stand out on this project.
David Jungbluth, Official Expert and Branch Manager at Kötter & Siefker Berneburg
The challenge of the cathedral: high ceilings require additional ceiling-mounted detectors
The so-called Carpenter and Stonemason Room, which was long used as a storage area for parts and minor restoration works (jambs, statues, stucco areas, pillars etc.), is to be transformed into an exhibition and event space in future. The high number of visitors expected to use the space requires a possible hold-holding open of the doors. As the Carpenter Room is also planned as a separate fire protection section, the fire protection doors need to close automatically in case of alarm.
Due to the extremely high ceilings, two additional ceiling-mounted detectors are required here. Cables would need to have been concealed in the joints, which would have meant significant additional expenses in the joint area as well as some chiselling and slitting work. Monument protection issues would have required complex and time-consuming legal and regulatory approvals.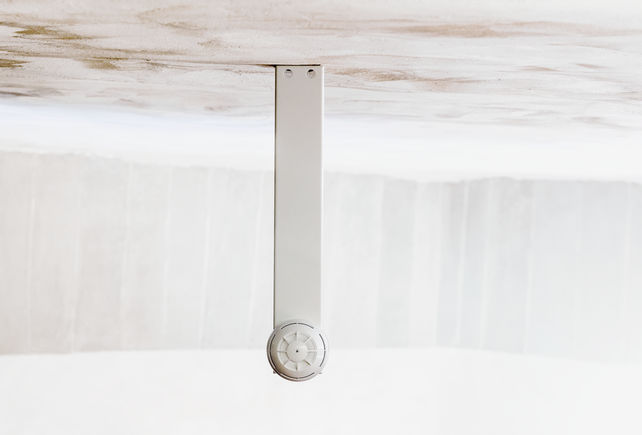 Wireless extensions
Ideal for buildings with protected monument status: wireless extensions for hold-open systems. © Stefan Dauth / GEZE GmbH
I am very familiar with Magdeburg Cathedral and its protected historical structure – after all, I conduct cathedral tours myself. Whilst the Schörghuber wooden fire protection doors are a good fit within the visual surroundings, technical elements such as door closers and smoke alarm systems present a challenge. GEZE's discreet hold-open systems with wireless modules in conjunction with the wireless ceiling-mounted detectors are the ideal solution here, because no cable connections are required between the lintel-mounted and ceiling-mounted detectors.
Wagner, Master Carpenter
The wireless extension solution for GEZE's hold-open systems had two other decisive pricing advantages:
- Cost factor: eliminates the cost of laying cables
- Time factor: reduces installation time
Go to Wireless KIT GC 170
Hold-open systems in the organ loft provide quiet ease of access and fire protection
A good example of the interplay between ease of use and modern fire protection measures can be seen in the access to the organ loft, which can be reached via two doors. One side serves as an entry, the other side as an exit – meaning there is no scramble when the church choir comes and goes. Because of the many comings and goings at certain times, it is crucial that the doors close quietly and can be kept open if necessary – after all, a solemn service should not be disturbed by slamming doors.
At the same time, the hold-open systems must automatically close the fire doors in case of fire to prevent the spread of smoke and flames. It was particularly important to set up new fire protection closers for the organ loft, as only normal building doors were used here previously. There were no fire protection closers or other fire protection measures, only fire alarm systems.
Two new wooden fire protection doors were manufactured by Tischlerei Wagner from Körbelitz, Germany. GEZE TS 5000 R guide rail door closers with an electrical hold-open device, continuously adjustable closing force and integrated back check ensure that the doors close quietly and are kept open if necessary. The smoke switch control unit integrated in the hold-open system makes sure that the doors close automatically in case of fire.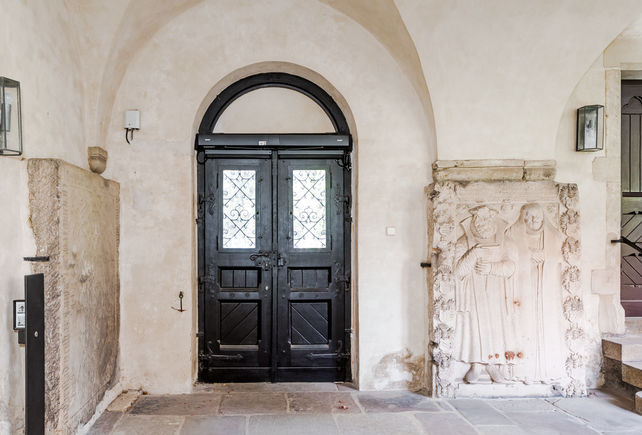 Protected monument
Historical doors of the protected monument require special measures. © Stefan Dauth / GEZE GmbH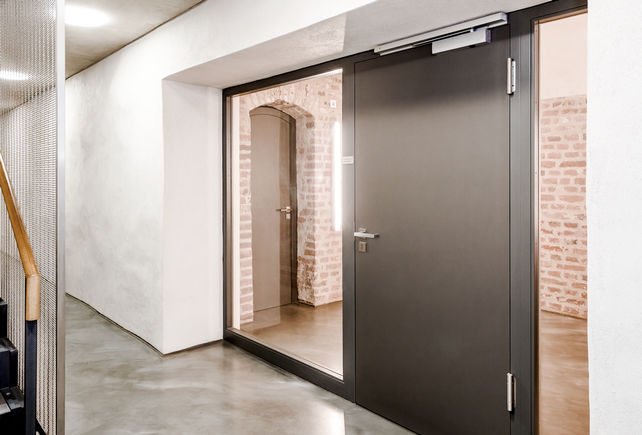 Fire doors with GEZE door closer
GEZE door technology ensures ease of access and safety. © Stefan Dauth / GEZE GmbH
Historic landmark and tourist attraction – Magdeburg Cathedral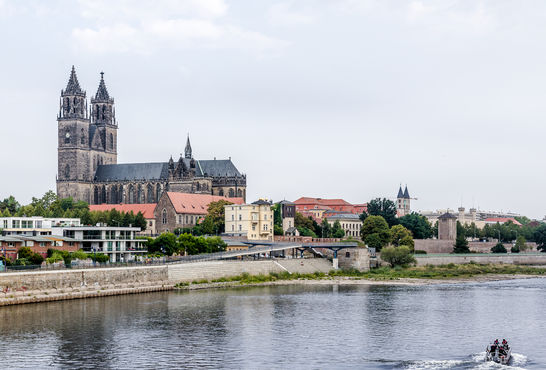 The imposing Magdeburg Cathedral is the emblem of the city. © Stefan Dauth / GEZE GmbH
Officially the Cathedral of Saints Catherine and Maurice, Magdeburg Cathedral is considered the first cathedral in Germany to be completely designed in the Gothic style.
The previous church on the site had nationwide significance as the burial place of the Holy Roman Emperor Otto the Great. The original cathedral was destroyed by fire in 1207. The complex construction of the Gothic cathedral began in 1209, and the dedication took place in 1363.
The elaborate church construction took over 300 years. In 1520, the two imposing church towers were completed – the north tower and its outdoor platform can be visited as part of guided tours.
The number of visitors shows just how important the historic building is today: in addition to churchgoers attending services in the present Protestant parish church, more than 100,000 tourists visit the impressive Gothic building every year.
All GEZE products in Magdeburg Cathedral at a glance
Hold-open systems with customised TS 5000 R and R-ISM door hold-open devices
Wireless modules for connecting wireless components to GEZE GC 171 hold-open systems
GC 172 wireless smoke detector for wireless connection to the GC 171 wireless module