Case studies
Complete synergy: GEZE door systems and IGG integrated all-glass systems at the Great Northern designer hotel
There's no doubt about it: the hotel industry's requirements in terms of functionality and design are increasing. Ultimately, the aim is to offer guests an impressive experience in every respect. The Great Northern Hotel, newly constructed in the Danish town of Kerteminde and one of Europe's most ambitious golf and spa hotels, is no exception. GEZE supplied 110 door closers, automatic sliding door systems and integrated automation systems for the striking development, combining convenient functionality with discreet design.
The Great Northern Hotel combines Scandinavian design with Nordic nature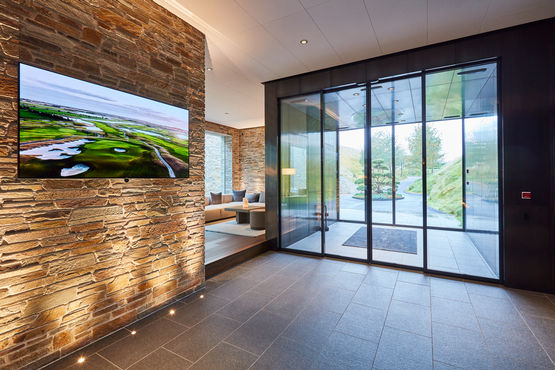 A warm welcome: GEZE door systems greet guests at the Great Northern Hotel in Denmark. © Morten Bak / GEZE GmbH
Situated in the Danish town of Kerteminde, the Great Northern Hotel offers luxury and enjoyment with golf, hotel, restaurant and spa facilities of an exceptional international standard. Its golf links, for instance, were designed by Nicklaus Design – the world's leading golf course architects. Initial plans for Great Northern were drawn up in 2011. The opening of the exclusive spa in 2019 marked the completion of the entire project, including an 18-hole golf course, clubhouse, hotel and spa facilities – thus creating a hotel that delights not only guests and golf enthusiasts but also architecture and design aficionados.
Great Northern's buildings feature a striking yet stylish blend of Nordic architecture and international flair. The selection of materials, such as light, hand-carved sandstone, dark wood, warm copper and glass, supports the organic expression of the golf and spa resort's magnificent natural Nordic surroundings.
Exacting functional and design standards, down to the finest detail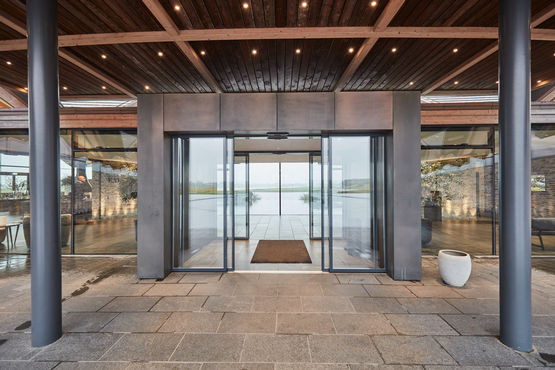 Successful integration: the IGG integrated all-glass system from GEZE complements the design concept of the hotel entrance. © Morten Bak / GEZE GmbH
Danish door manufacturer Vahle A/S has extensive experience working on hotel furnishings and supplied all of the building's interior doors through E+N Arkitekter. As soon as the ink on the architect's drawings had dried, Vahle A/S began to search for the best possible ways to meet the high functional and design standards set for the building's doors.
"In the hotel industry, doors are an increasingly important element of architecture and expression. The doors must comply with regulatory functional requirements such as fire and smoke safety, they must be soundproof and on top of this they must be stylish. Door closers and hinges must therefore be integrated into the doors, which requires our suppliers to develop very small, integrated door closers. Even a few millimetres can make a big difference. GEZE door closers met these high requirements in full." Bo Vejen, Sales Manager at Vahle A/S.
In total, Vahle A/S supplied 174 dark-finished oak interior doors for the hotel, spa and clubhouse. Of these, 110 of the doors are equipped with integrated door closers from GEZE.
GEZE's integrated door closers are the smallest and best designed on the market, and they fit the needs of the Great Northern Hotel perfectly. The look of the doors is not compromised by the hinges or door closers, which are concealed inside the door.
Bo Vejen, Sales Manager at Vahle A/S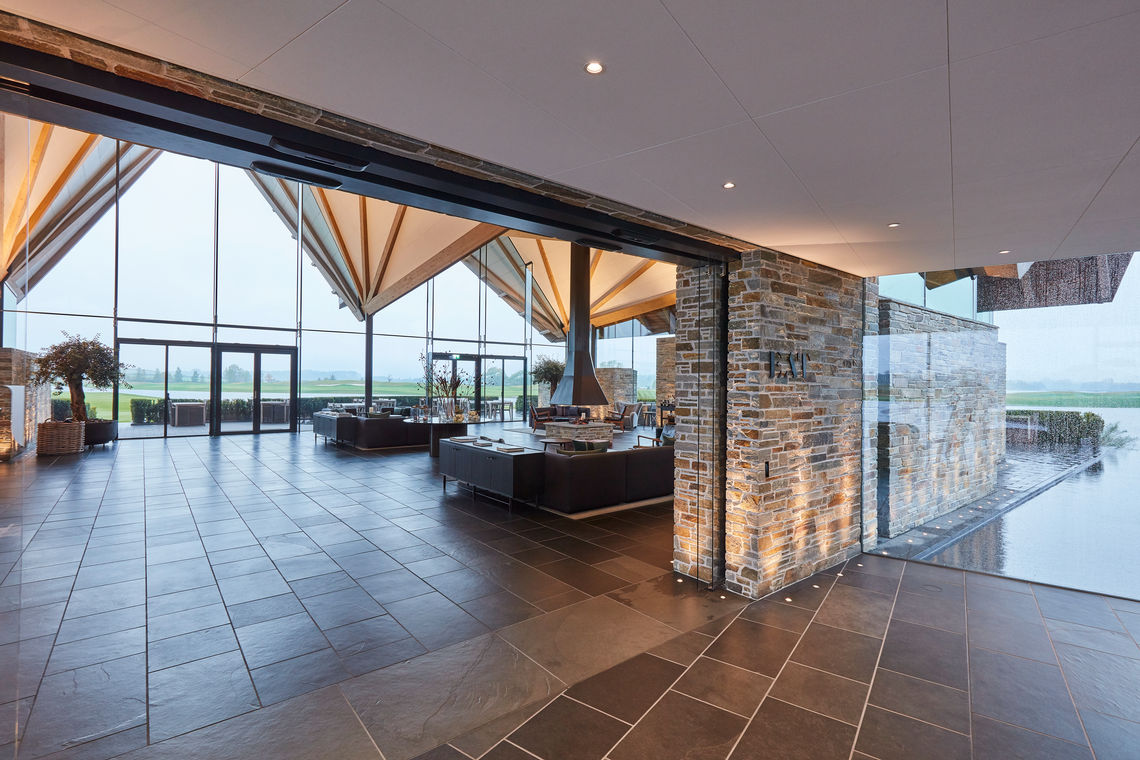 Stylish solution: a glass sliding door with door automation from GEZE © Morten Bak / GEZE GmbH
Stylish and functional: automated sliding doors
An impressive double-telescopic sliding door, completely in glass, separates the restaurant and lounge area from the reception. GEZE door automation allows for full access with the option of locking the doors in the fully open position when appropriate.
Automatic door systems provide barrier-free ease of access
At an upmarket hotel and restaurant like Great Northern, the utmost importance is attached to comfort. Guests and staff should be able to enjoy barrier-free ease of access throughout the site. With this in mind, all interior sliding doors are equipped with automated GEZE door systems, including those in the kitchen and restaurant, as well as the exterior and porch doors leading to the spa and clubhouse.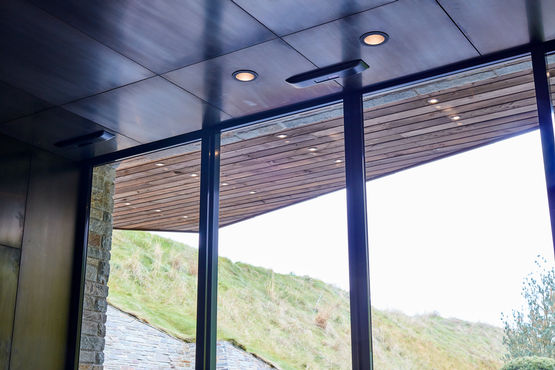 Discreet solution: the automatic door system from GEZE is integrated in the door frame. © Morton Bak / GEZE GmbH
Access control systems: for the hotel industry's high safety requirements
It is important that guest and service areas in hotels are separated in an unobtrusive manner. For this reason, GEZE supplied automatic door drives with an integrated personal security system. These can be used, for example, to secure the staff entrance to the spa and restrict access to the technical room.
Ambitious architecture requires unique solutions
To emphasise the building's stylish design, the architects opted to automate the sliding doors with systems installed in the ceiling. GEZE solutions also proved impressive in this area: GEZE is the only supplier on the market that has developed sliding door automation for integrated all-glass systems.
Discover individual sliding door solutions for unique applications
Safe and practical: centralised building control
In a major resort hotel like Great Northern, it is imperative that all processes work smoothly. A central building management system is enormously helpful in this regard. Building automation makes building operation safer, more comfortable and more energy efficient. This is why all GEZE solutions are combined in a single control system, allowing them all to be managed from one central location.
The Great Northern Hotel is an incredibly exciting project, as the design architecture is extremely special and ambitious. We are enhancing our profile in hotel construction, and are delighted that we can help solve challenging tasks, such as concealing all automation in both ordinary doors and in all-glass systems, while at the same time satisfying the highest functional requirements in relation to statutory regulations such as fire and smoke safety.
Kent Hvidtfeldt of GEZE Denmark
At Great Northern, all elements are in complete harmony – from the stone walls and wood panelling to the glass sliding doors with discreet GEZE door systems. © Morten Bak / GEZE GmbH
GEZE solutions, well thought-out down to the finest detail
"The hotel industry is increasingly demanding solutions that are minimal and concealed and that can simultaneously operate large glazed doors or heavy metal doors. We are spending more time advising on the solutions and their limitations, and with GEZE in our camp, we can deliver exactly what the industry is demanding. We have an excellent partnership with GEZE and we understand their products very well. Great Northern is a large building, but it is the small, well-thought-out and aesthetic details that matter to us. And GEZE has contributed immensely to refining them," says Bo Vejen, Sales Manager at Vahle A/S.
GEZE products in the Great Northern Hotel at a glance