Case studies
Access management and hygienic safety at Rheinhausen primary school with GEZE
Safety and hygiene are becoming increasingly important in schools. In the new building at Rheinhausen primary school, GEZE automatic door systems provide safe, convenient and hygienic contact-free access. The GEZE INAC access management solution ensures that only authorised persons have unimpeded access to the school building, making it an important part of the school's security concept.
Choosing a GEZE INAC access control system saves time and money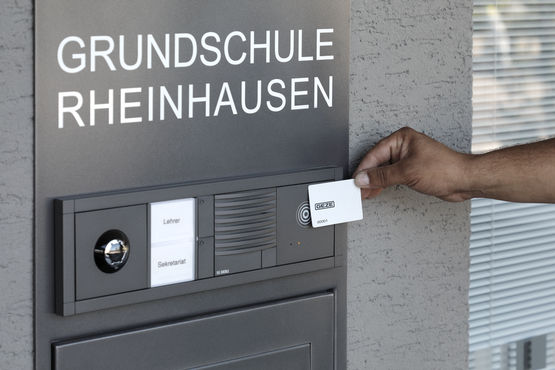 Convenient access control: users simply have to hold their the MIFARE RFID card up to the GEZE INAC reader. © Oliver Kern Fotografie / GEZE GmbH
Even before the construction of the new school building, the Municipality of Rheinhausen already had an access control system in place in existing buildings, such as the community centre containing the town hall, concert hall and ceremonial hall, as well as the library and the multi-generational house with a daycare centre, in-patient care and café. This threw up several questions for the planners and building operators. Should two different systems be used in existing buildings and new buildings? If so, how? Or should the old system be completely replaced to enable the same system to be used across all buildings? Neither option was particularly satisfactory as they both entailed significant investment of time and financial resources.
However, GEZE was able to put forward a cost-effective, future-proof solution. Using modern hybrid technology, it was possible to combine the new GEZE INAC system with the existing system. It was therefore not necessary to replace the old access control system, which would have been time-consuming and expensive. Another advantage is that regular software updates will help the GEZE INAC remain state-of-the-art, making it a lasting solution that will save time and costs over the long term.
Convenient cards permit keyless access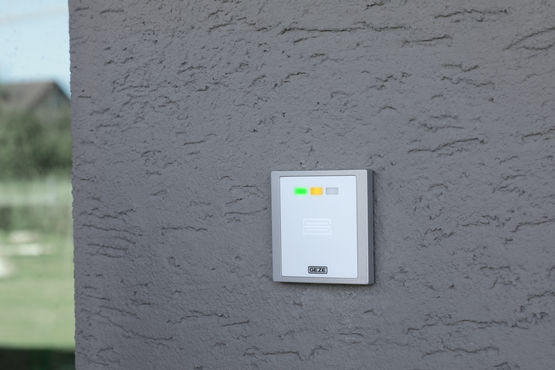 The GCVR 800 UP reader for the GEZE INAC access control system blends in discreetly with the façade design. © Oliver Kern Fotografie / GEZE GmbH
Ensuring that the access control system is easy and convenient for everyone to use was a priority for the building operators. The aim was to allow a single ID card to serve as proof of authorisation for both existing and new systems. GEZE successfully overcame this challenge by drawing on hybrid technology. That is to say, each card contains two types of chip technology. Building users only require one access card for all buildings, as the cards work with both systems. This user-friendly solution made it possible to install the new GEZE INAC system in the new building without the need for amendments to the existing system in place across other buildings. This saves time and costs – without compromising user-friendliness.
Installing and setting up the access control system is straightforward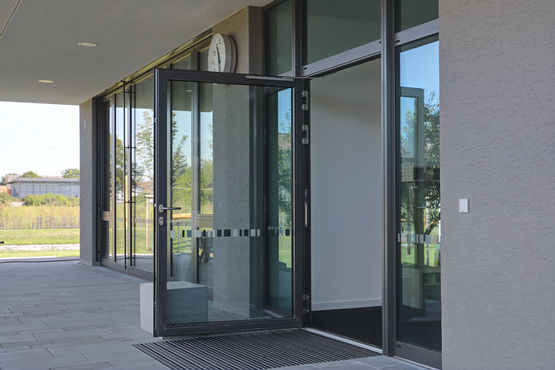 At the side entrance to the school, a discreet GCVR 800 UP reader and the GEZE INAC access control system make sure that only authorised persons can access the school building. © Oliver Kern Fotografie / GEZE GmbH
The GEZE INAC access control system offers outstanding convenience – and not just for the building's users. Installers and building operators also benefit from this carefully considered GEZE solution.
"Our Smart Building Projects department preconfigured the GEZE INAC system according to the client's specifications and also programmed and delivered all ID cards. This meant that our client was able to commission the access control system in no time at all using the documentation provided. Small adjustments were easy to implement thanks to the easy-to-understand system and were performed on-site by the fitters," said Christoph Keller, Key Account Manager Safety Technology at GEZE.
The benefits for installers and building operators are clear: installing and commissioning a pre-configured INAC access control system saves the client a great deal of time on the construction site while also offering enhanced functional security.
GDPR-compliant data security
One important aspect for building operators is that the GEZE INAC access control system functions in accordance with the EU General Data Protection Regulation (GDPR). The system can also be adjusted to the data protection regulations of individual companies and institutions with ease. After all, data security is of vital importance in all sectors. The MIFARE DESFire EV2 RFID cards, which allow users to be identified contact-free at building access points, offer additional data security thanks to encrypted communication.
Discover our industry solutions for educational institutions
We want to offer our clients solutions precisely tailored to their specific requirements. We are therefore very proud that our Slimdrive automatic sliding door system and our GEZE INAC access management solution allow us to deliver user-friendly, cost-effective solutions.
Christoph Keller, Key Account Manager Safety Technology at GEZE
GEZE solutions for customised safety concepts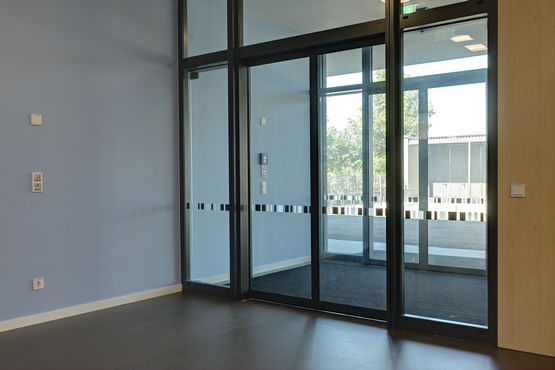 A safe, hygienic solution: the GEZE Slimdrive sliding door system for escape and rescue routes opens and closes automatically, thereby avoiding physical contact. © Oliver Kern Fotografie / GEZE GmbH
Make sure doors only open for the people they're supposed to. Access controls reliably deny entry to unwanted guests and let authorised people pass through. GEZE has the right access control systems for your individual requirements.
Find out more about building safety
Convenient, secure and hygienic: the new school entrance with a GEZE sliding door system
Pupils, teaching staff and visitors need to be able to pass through entrance doors at schools at their convenience – and exit through them quickly and safely in case of emergency.
The original plan for the entrance to the new building at Rheinhausen primary school was to install a revolving door. Our GEZE design consultants recommended that the client choose an automatic sliding door fitted with a GEZE Slimdrive SL NT-FR sliding door system for escape and rescue routes.
With the door leaf automatically opening to the side, users can enjoy convenient and accessible access in both directions. This ensures that pupils do not have to contend with a free-swinging door when entering or leaving the school building. Another key advantage of the automatic door selected is that it opens and closes fully automatically – and therefore without any physical contact, which eliminates one method of transmitting germs, bacteria and viruses. This convenient, secure and hygienic GEZE solution impressed planners and the client in equal measure.
Discover other GEZE solutions for entrance areas (PDF | 396 KB)
We knew about GEZE's access control systems and their various applications from some of our other construction projects. With this in mind, we were delighted by the GEZE project manager's proposal to continue using existing systems in other buildings and draw on hybrid technology to integrate the new school building in the overall security system. We were impressed by the specialist, forward-looking advice we received. Our decision to install an automatic sliding door soon paid dividends – as safety and hygiene are taking on an increasingly important role in schools at present.

Dr Jürgen Louis, Mayor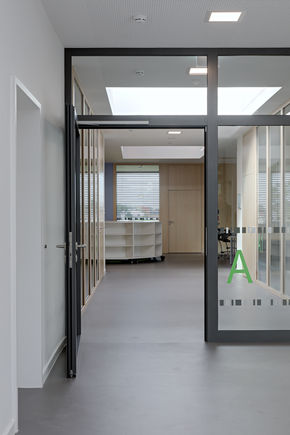 Electric hold-open device
Thanks to the GEZE TS 5000 R overhead door closer with electric hold-open device, doors in corridors at Rheinhausen primary school open when required. © Oliver Kern Fotografie / GEZE GmbH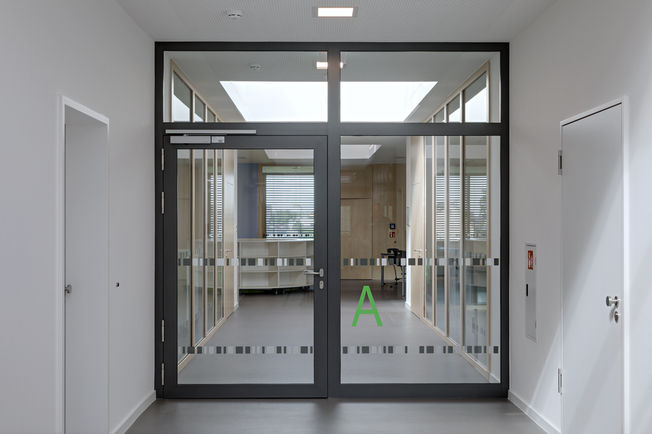 Intelligent fire protection
GEZE TS 5000 R overhead door closers with smoke switch provide fire protection, having been fitted to fire and smoke protection doors at Rheinhausen primary school. © Oliver Kern Fotografie / GEZE GmbH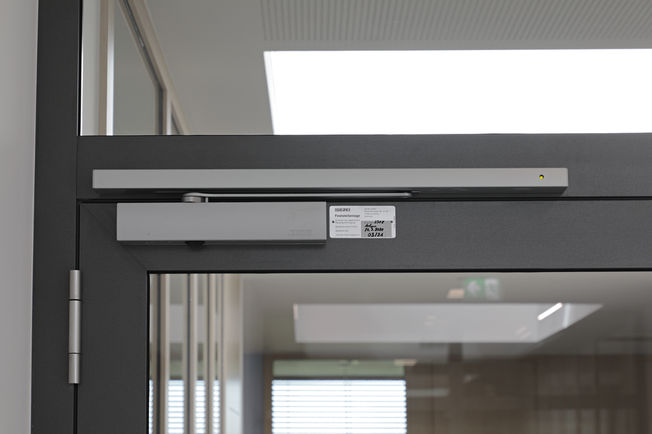 Door closer in case of fire
The GEZE TS 5000 R has an integrated smoke switch control unit, which sends a signal to automatically close the door in case of fire. © Oliver Kern Fotografie / GEZE GmbH
GEZE products at Rheinhausen primary school
GEZE INAC access control system comprising DC800-DR Door Controllers, GCVR 800 UP readers, MIFARE RFID cards and power supply unit, plus GEZE INAC software application (app) for GEZE Cockpit
Slimdrive SL NT-FR automatic linear sliding door system for escape and rescue routes
TS 5000 R overhead door closer for fire and smoke protection doors, with electric hold-open device and integrated smoke switch control unit