GEZE at Fensterbau Frontale 2016
Focusing on the Professional, Living and Service fields, GEZE will present innovative solutions which simplify the experience of living and working in modern buildings. This includes interface solutions for the integration of building technology, window technology, door technology and service provision.
Professional Solutions: Forward-looking solutions for smart buildings
GEZE is showcasing two interface modules for intelligent building networking which can be easily integrated into the KNX and BACnet protocols. In the window technology field, the IQ box KNX interface module enables controlled, natural ventilation, and the GEZE window drives from the IQ windowdrive series can be directly incorporated into KNX building systems. More detailed information about the window functions is of course also available.
The new IO 420 interface module is the key to 'smart buildings' because all the system components are interconnected within a network. This means that door systems, ventilation technology, RWA as well as safety systems (e.g. emergency exit control systems) can be integrated into the building management system via the BACnet global open communications protocol.
In the automatic door field, GEZE will will present two solutions with outstanding safety features.
A new version of the Powerturn automatic swing door drive for especially large and heavy doors will be presented as part of a system solution in conjunction with systems and products such as the IQ Lock AUT electronic motor lock, the TZ 320 escape door control system, and the FTV 320 escape door lock.
IST Systems (a GEZE subsidiary) has added the new A4000 vector electric strike to its product portfolio: its particular strengths include almost silent door opening as well as secure release of the lock latch even when under high preload – and without the need for additional electronics. The typically small IST dimensions remain unchanged, guaranteeing new design possibilities with a high level of planning security.
Living Solutions: power, comfort and design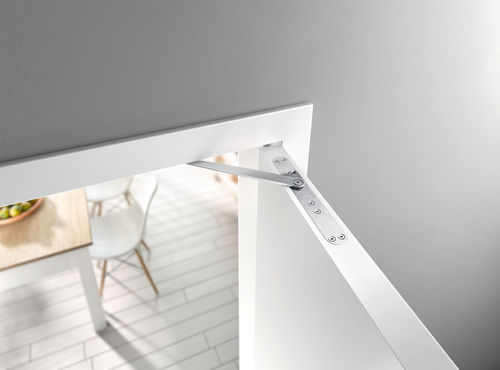 Draw-in damper on both sides for single-action doors without fire protection demands
The highlight in the Living Solutions field is the GEZE ActiveStop door damper. It provides a much greater level of convenience and feeling of spaciousness. GEZE ActiveStop can stop doors gently, close them quietly and keep them open with ease. Furthermore, the system can be set up in an instant and fits into virtually any standard door – providing a solution that's tailored to your needs and living space. One of the enhancements in the Living Solutions field is the expanded range of manual sliding door systems, such as the new Levolan 120 system. Its key features include a discreet, straight-lined look, a modular structure, and ease of installation.
Service Solutions: the right solution for every need
Whether it's in the form of quick installation or practical planning assistance: GEZE specialises in providing customised services. The focus in this field is on overall support for building management systems within a project – ranging from installation, maintenance and repair to the modernisation of existing systems. The benefits for planners include new software solutions which ensure convenient and reliable planning right from the initial design phase.